The BEST baked chocolate doughnuts.  Sweetened with honey, then topped with a silky chocolate glaze and sprinkles – oh so delicious!

(This post may contain affiliate links to products I recommend and used to make these baked chocolate doughnuts.)
Sometimes, there's nothing better than starting the weekend morning off with a sweet chocolaty treat.
What's even better is when that chocolaty treat is covered with a silky sweet chocolate glaze and topped with fun colorful sprinkles.
Is your mouth watering yet?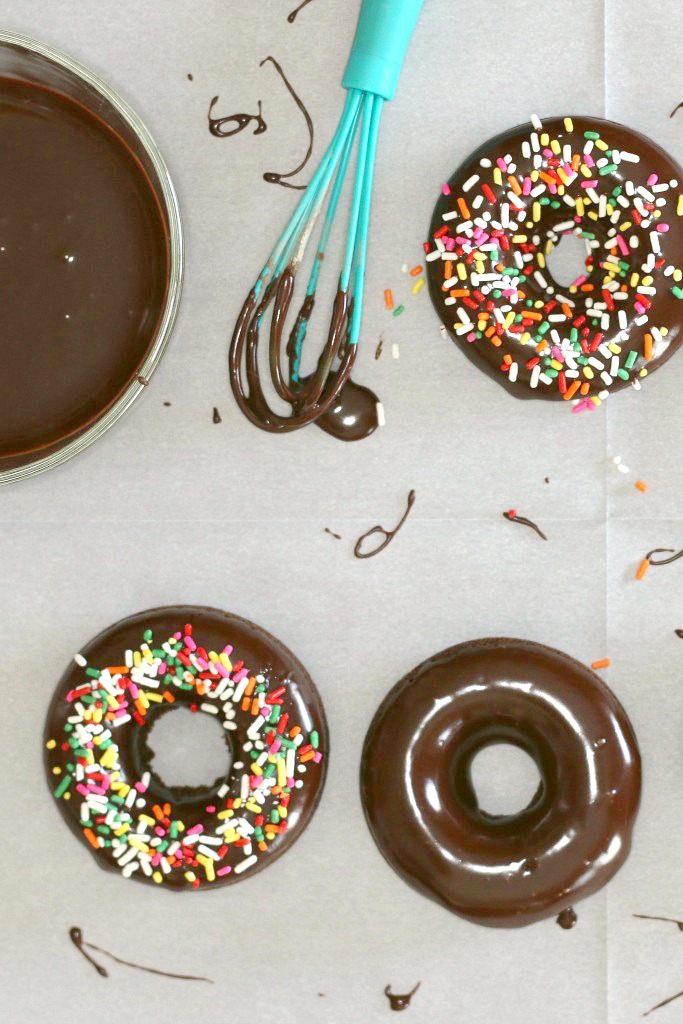 We have a bit of a new obsession in our house – baked doughnuts.  And it's all my husbands fault! I'm not joking.
My husband was so sweet and surprised me awhile back with this amazing doughnut baking pan.  Have you even seen these before?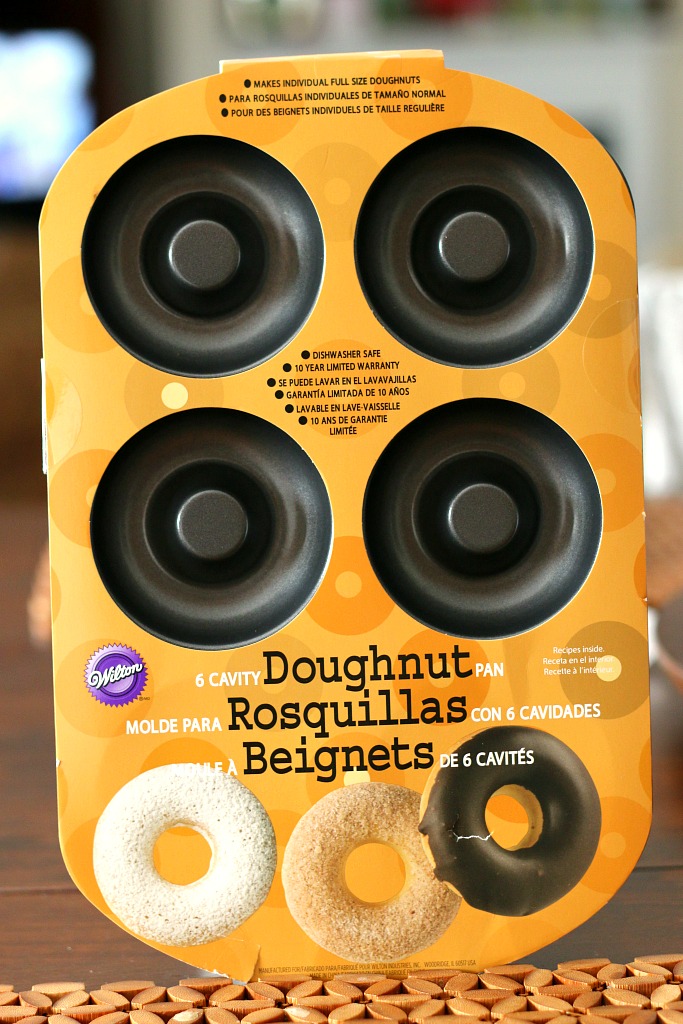 I've had so much fun testing different recipes and finding new ways to use this fun little baking pan.  Since chocolate is a staple in our house, I decided that chocolate doughnuts with a sweet gooey chocolate glaze was a must.  This time I  experimented with using coconut flour.
Coconut flour is a high fiber flour and often used for gluten free, grain free and low-carb baking.
If you've never baked with coconut flour it can be a little tricky and there are a few things to keep in mind:
Coconut flour absorbs a lot of liquid which is why recipes call for a very small amount of flour.
You will also notice that recipes using coconut flour will often call for a large number of eggs.  The eggs are used to bind the ingredients together since you don't use xanthan gum in coconut flour recipes.
These baked chocolate doughnuts turned out just perfect – a soft and cakey texture, with a hint of coconut that accents the chocolate.  If you aren't a coconut fan please don't shy away from trying this recipe – my sister is NOT a fan of coconut and she didn't even realize these were made with coconut flour.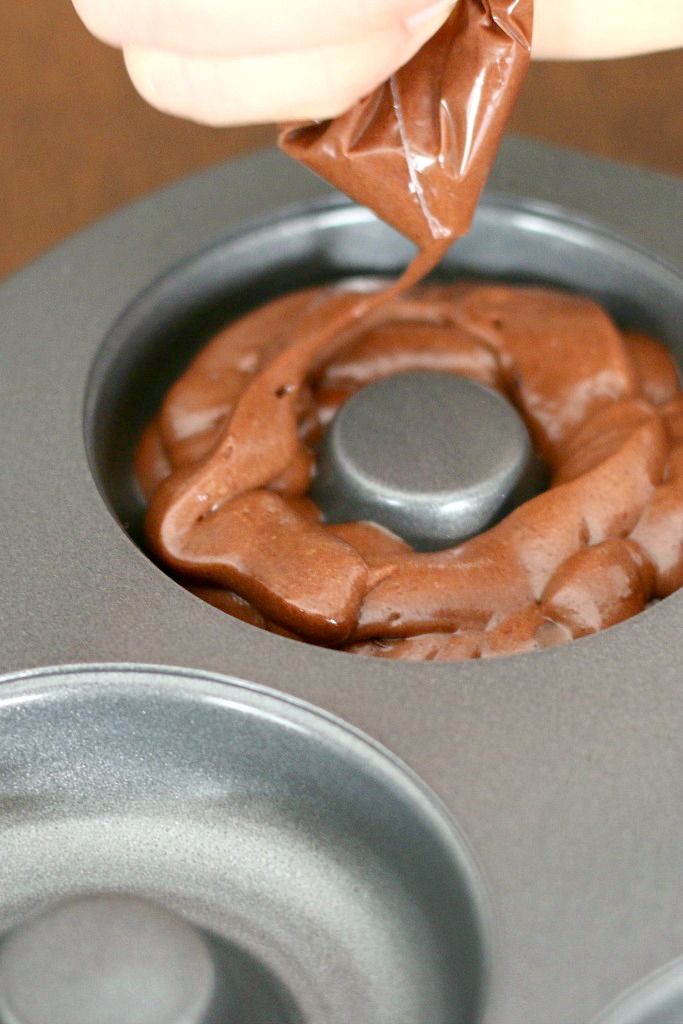 The doughnuts are fast and easy to mix up and only take about 20 minutes bake.  Be sure that you don't fill the doughnut cavities completely full to prevent any overflow.
It's best to let them cool in the pan for a few minutes before flipping them onto a rack.  It's the perfect time to make the glaze.  I like to dip the doughnuts in the glaze while they are still a little warm.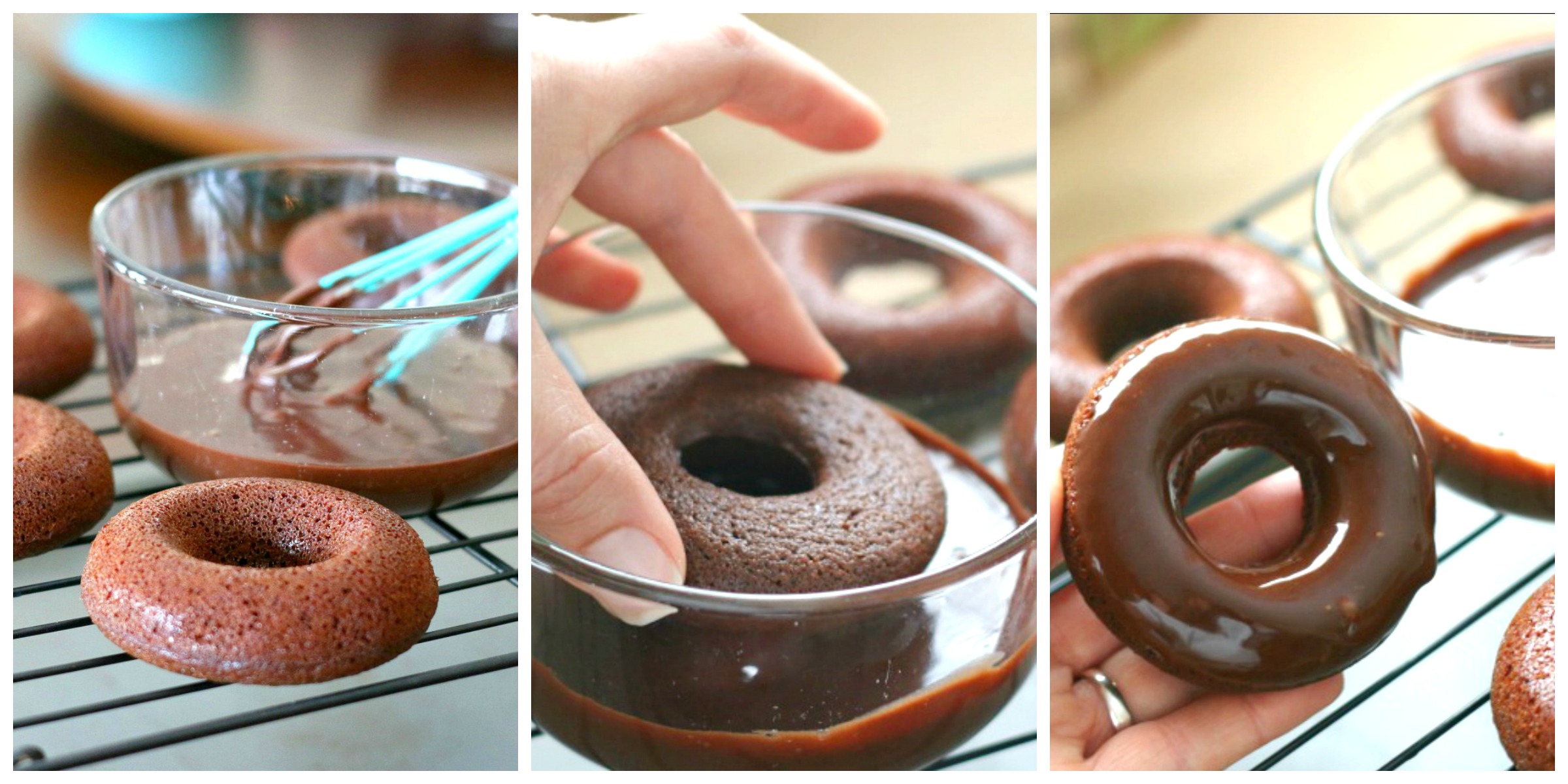 The silky chocolate glaze is the perfect coating for these baked chocolate doughnuts and helps hold the sprinkles beautifully on top.
This recipe makes about 8 doughnuts and are best served the same day that you bake them.  They usually don't even last that long in this house!
Enjoy and stay tuned because there will be more doughnut recipes to come:)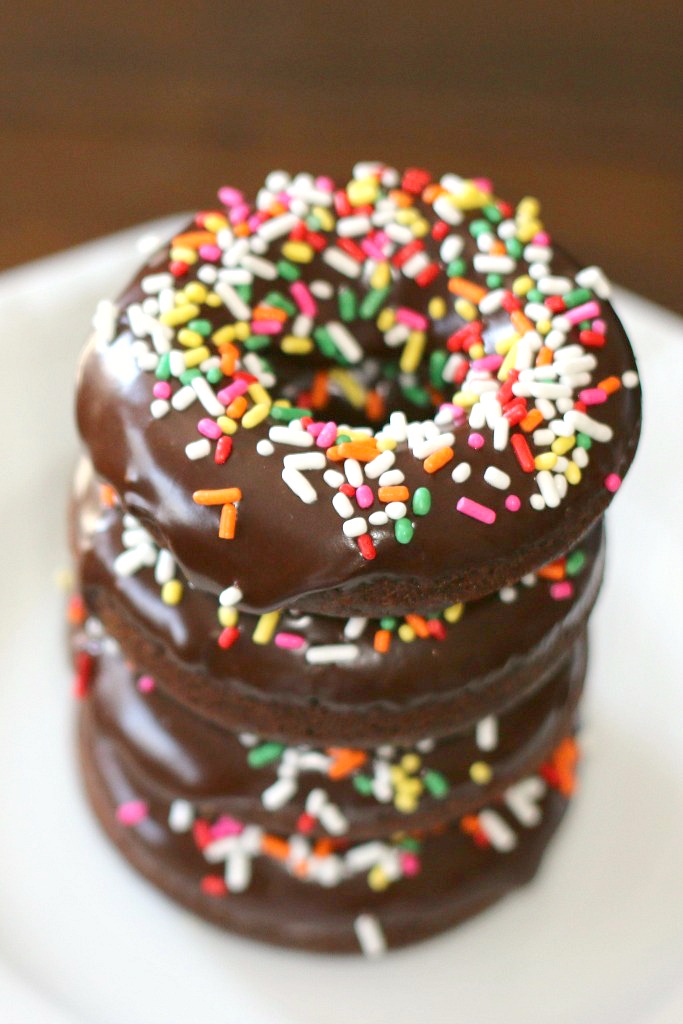 Baked Chocolate Doughnuts
Prep time:
Cook time:
Total time:
The BEST baked chocolate doughnuts. Sweetened with honey, then topped with a silky chocolate glaze and sprinkles – oh so delicious!
Ingredients
½ cup coconut flour
¼ teaspoon baking soda
¼ teaspoon salt
⅓ cup of unsweetened cocoa powder
6 large eggs
1 Tablespoon vanilla extract
½ honey
½ cup unsalted butter, melted
Instructions
Preheat the oven to 325 degrees F. Spray a doughnut pan with cooking spray, use a paper towel to lightly spread/remove excess spray.
In a large bowl, combine the coconut flour, baking soda, cocoa powder and salt. In another bowl, combine the eggs, vanilla, honey and melted butter. Stir the dry ingredients into the wet ingredients, mix just until combined.
Let batter sit for 5 minutes so that coconut flour can absorb the moisture.
Fill the doughnut pan cavities ⅔ full will batter. I recommend using a ziplock baggie and snipping the corner to pipe the batter into the pan.
Bake 20 minutes or until toothpick comes out clean.
Cool in pan for 10 minutes before removing.
Dip in chocolate glaze (see recipe below) while still slightly warm. Top with sprinkles and enjoy!
Notes
Chocolate Glaze
1/2 cup semi-sweet chocolate chips
2 Tablespoons unsalted butter
2 Tablespoons light corn syrup
2 teaspoons hot water

Glaze Directions:
Place chips, butter and light corn syrup in a medium bowl and microwave on 50% power for 1 minute. Stir frequently until completely melted. Repeat in 30 second increments if necessary. Stir in 1 teaspoon of hot water until glaze is smooth and thick. Add the second teaspoon of water if needed to thin glaze to your liking. Dip doughnuts in glaze and top with sprinkles.

* Recipe adapted from www.comfybell.com - Chocolate Honey-dipped Dounts & Cupcakes
---
You Might Also Enjoy One of These Recipes…