You will certainly be the hit of the party with this fruit salsa with cinnamon sugar tortilla chip recipe!  And you're in luck because it couldn't be easier to make.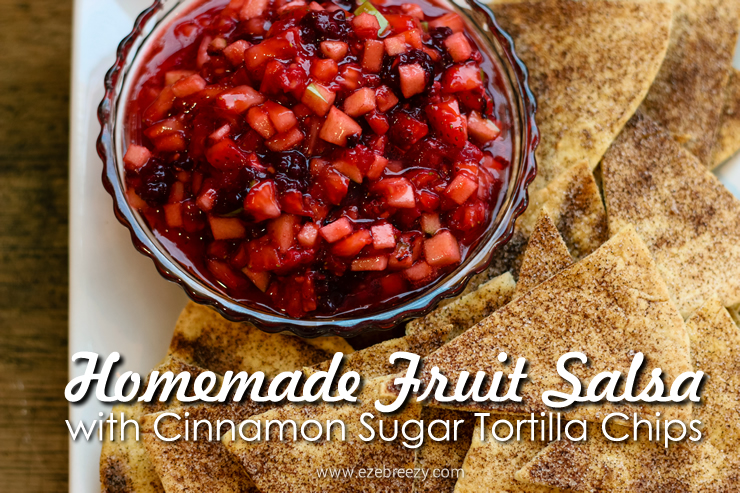 Do you have a 'go-to' recipe when you have to make something for a family gathering or party with friends?  I do.  I have a handful of things that I love to make and this recipe for fruit salsa with cinnamon sugar tortilla chips is one of them!  It's easy to make, super versatile, and is a hit with the whole crowd (including the little ones).
The recipe calls for strawberries, apple, raspberries, blackberries and kiwi but you can certainly use what you have on hand.  I have used blueberries, doubled up on the strawberries and even left out the kiwi.  No matter what you use, this recipe turns out DELICIOUS!
One of my family's favorite things about this recipe is the highly addicting cinnamon sugar tortilla chips.    I have tried using store bought chips before, like a cinnamon sugar pita chip, which works great when you are in a pinch, but nothing compares to these crisp cinnamony (I know that isn't a word but it seems like it should be right now) sugar dusted chips.  I mean look at these things…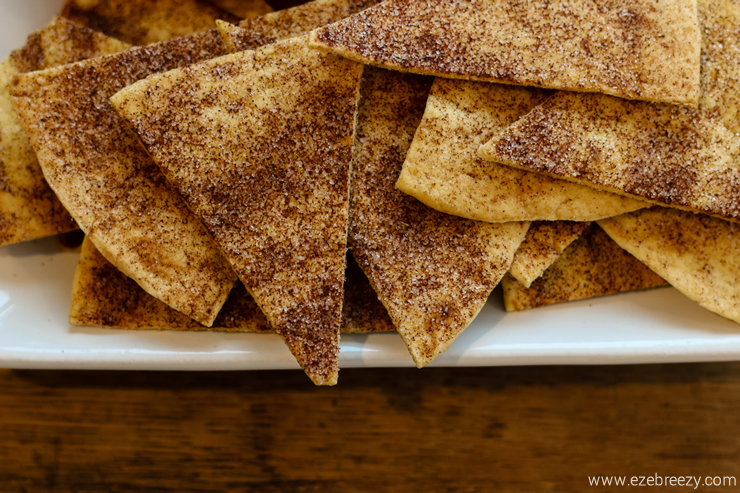 Another thing I love about this recipe is that you can use it for so many other things.  It makes a great topping for vanilla yogurt for an after school snack or you can spoon some on top of your ice cream to make the perfect ice cream sundae.  We put it on top of oatmeal AND use it, along with vanilla yogurt, to make frozen popsicles.
This homemade fruit salsa with cinnamon sugar tortilla chips also makes a wonderful gift.  Simply spoon the fruit salsa into a mason jar, put the chips into a clear bag, and attach the recipe on a cute card.  Trust me, they will be thrilled!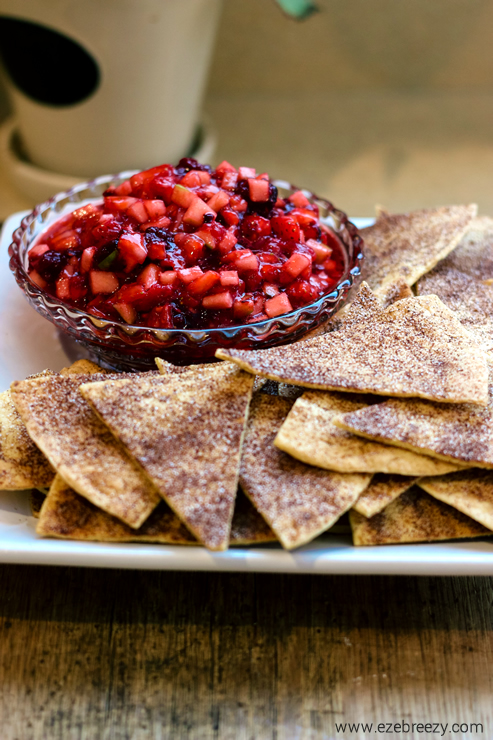 So here it is…I hope you enjoy it as much as we do!
Fruit Salsa with Cinnamon Sugar Tortilla Chips
Prep time:
Cook time:
Total time:
Ingredients
1 pound strawberries, diced
2 kiwi, peeled and diced
2 apples - any variety works - peeled, cored and diced
8oz. raspberries, diced
4oz. blackberries
1 tablespoon brown sugar
3 tablespoons, fruit preserves(any flavor) - such as Smuckers Orchard's Finest
10 - 10 inch flour tortilla (whole wheat tortillas work great too)
3 tablespoons of cinnamon sugar
butter flavored cooking spray
Instructions
Preheat oven to 350 degrees F (175 degrees C).
In a large bowl, combine apples, raspberries, blackberries, kiwis, strawberries, brown sugar and fruit preserves. Once mixed, cover and chill in the refrigerator at least 30 minutes.
Spray one side of each flour tortilla with butter flavored cooking spray. Sprinkle tortillas with cinnamon sugar and then spray again with cooking spray. Cut into wedges. Place in a single layer on a large baking sheet.
Bake tortilla wedges in the preheated oven 8 to 10 minutes. Repeat with any remaining tortillas. Allow to cool approximately 15 minutes. Store in a zip sealed bag. Serve with chilled fruit mixture.
Notes
* We typically alternate between using granny smith apples or the milder golden delicious.
Pin it for later!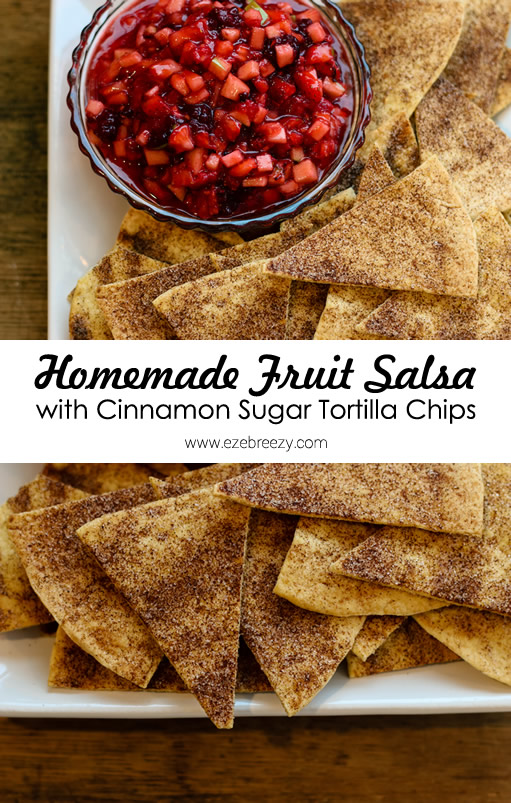 ---
You Might Also Like…