This Easy Sangria Recipe is the perfect refreshing summer cocktail made with fresh fruit soaked in red wine with blackberry brandy and a touch of orange liqueur.   It's so delicious and easy to make, you better double the recipe because this sangria is always the hit of the party.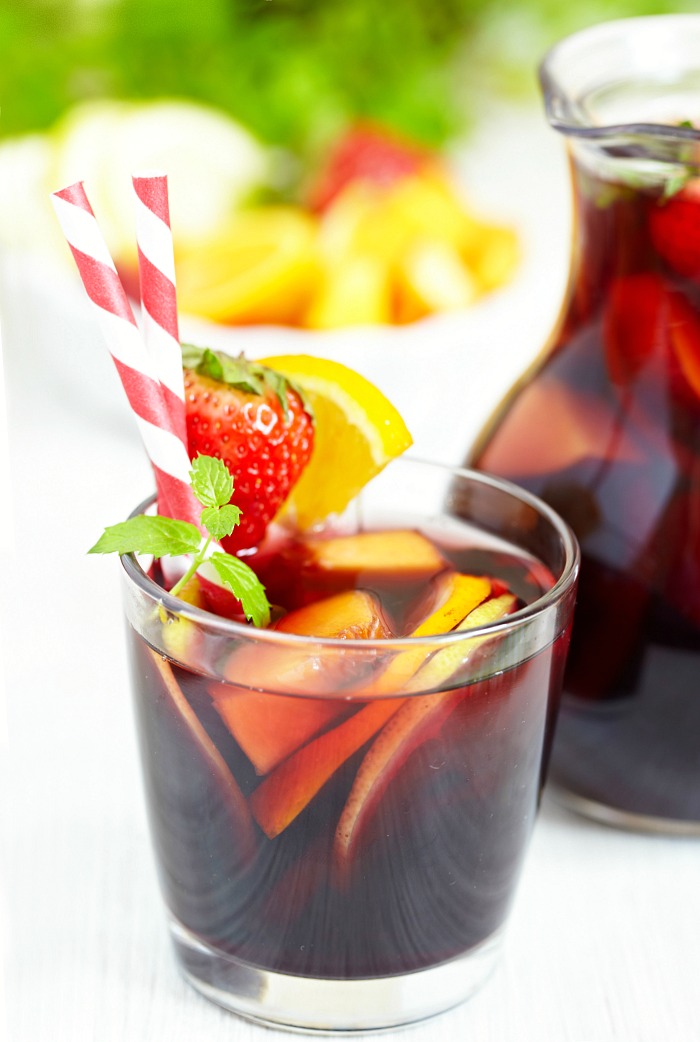 I. LOVE. SANGRIA.  Love!  And  I'm not joking when I say that this easy sangria recipe is crazy-good.  Besides tasting out-of-this-world amazing, it's quick, easy and super versatile.
When I think of sangria, I think of gathering together with great family and  friends, cooking out on the grill surrounded with amazing food and  beautiful weather.  And who doesn't love that?
Sangria is a refreshing, fruity wine punch usually consumed ice cold and is simply a summer cocktail staple.
Sangria is typically made up of a combination of citrus fruits, apples and red wine.  The traditional sangria has evolved over the years and today, you'll find a variety of these fruity wine-based punches using both red and white wines, and different varieties of fruit.
I've used the traditional combination of citrus fruits and apples in this recipe but feel free to change things up a bit.  Since strawberries are in season, try adding them instead of apples.  Whatever fruit combination you choose, you'll end up with a delicious fruity sangria everyone will love.  The real star of this easy sangria recipe is the combination of red wine, blackberry brandy and orange liqueur.
So which red wine is best for sangria?
I have tested quite a few varieties of red wine in sangria over the years: Merlot, Zinfindel, Pinot Noir, Shiraz, just to name a few and my FAVORITE by far is a Garnacha (a.k.a. Grenache).
When choosing a wine for your sangria, you don't want to use a wine that is too assertive with a heavy fruit, oak or tannin undertone.  This would just push aside the other flavors you are adding to the sangria.  That's one of the reasons, a medium-bodied wine like Garnacha works perfectly.  Garnacha also has a strawberry, black cherry, raspberry flavor profile with a subtle hint of cinnamon which adds a wonderful fruity punch to your sangria.
You also don't want to use a super expensive wine either since you are going to adding additional flavors to your sangria.  There are plenty of amazing Garnacha labels out there for under $10.  Bodegas Ateca Honoro Vera Garnacha is one of my favorites.  You can typically find it for around $6-$8 a bottle.  And it has a super cool label which, I know is the perfect way to determine if a wine is good or not, right?

This sangria recipe is incredibly easy to make, so you don't have to think twice about whipping up a batch for your next fun gathering.  Oh – one more thing.  You'll see in the recipe an option of adding a little simple syrup.  I typically don't do this because I feel like the orange liqueur and variety of fruits add just the right amount of sweetness but it's there as an option if you like things a little sweeter.
So next time you have a have a BBQ and throw some chicken on the grill – make a pitcher or two of this crazy-good and easy sangria.  You won't be disappointed! 🙂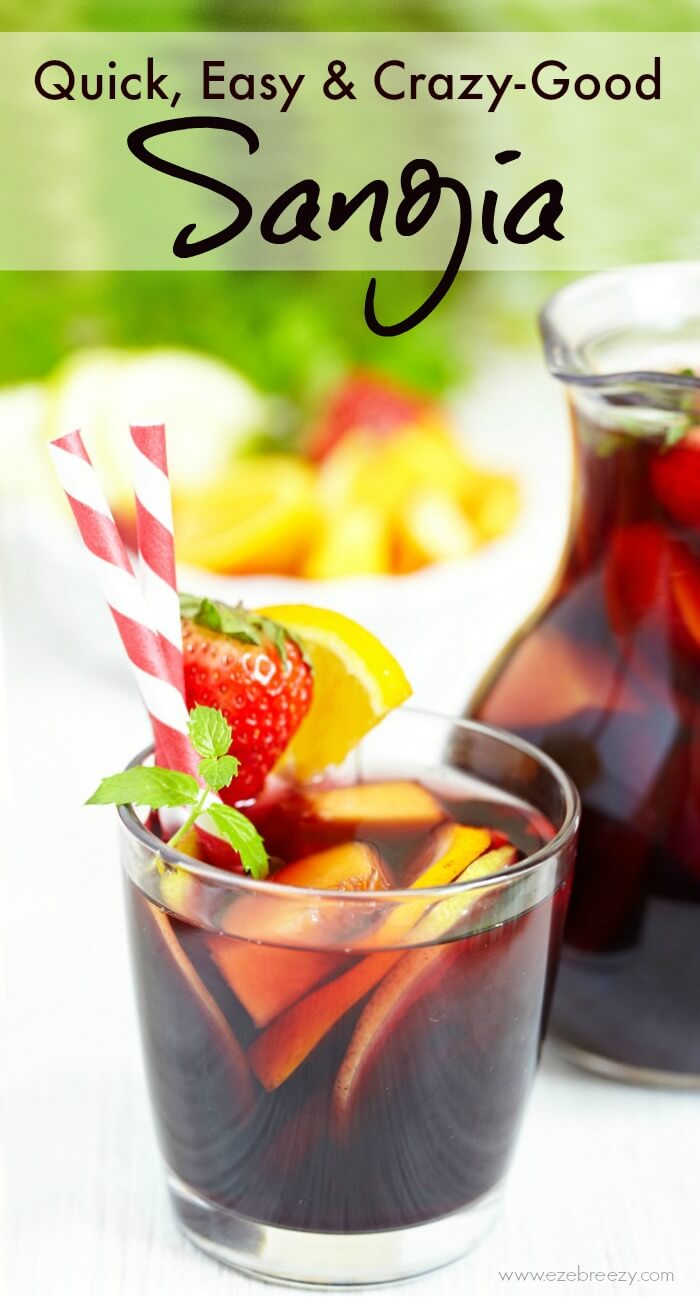 Crazy Good and Easy Sangria for Summer
Prep time:
Cook time:
Total time:
This red wine sangria is crazy-good! Quick and easy to mix up. Plan on making a double batch because this sangria is always the hit of the party.
Ingredients
1 750ml bottle Garnacha Wine
½ cup Blackberry brandy
¼ cup Triple sec
½ cup orange juice
1 Orange, thinly sliced
1 Lemon, thinly sliced
1 Lime, thinly sliced
1 Granny smith apple, chopped small pieces
¼ cup simple syrup (optional)*
Instructions
Place sliced fruit in pitcher
Pour wine, brandy, orange liqueur and orange juice over fruit
Mash up slightly with wooden spoon
Add simple syrup, if using
Refrigerate for at least 2 hours to overnight. Flavors develop the more it sits. (I can never wait this long and it ALWAYS tastes amazing after just a few hours)
Serve chilled with some pieces of sliced fruit.
Enjoy!
Notes
* To make simple syrup, bring 1 cup of cold water and ½ cup of sugar to a boil in a medium saucepan over medium-high heat. Once boiling,turn heat to low and stir constantly until the sugar dissolves completely and the mixture is clear, about 3 to 5 minutes.

**I personally do not add the simple syrup because I think the sangria is sweet enough on it's own but some people like it super sweet and add this simple syrup is the key to sweetening things up without having to deal with undissolved sugar settling in the bottom of the pitcher.
---
Here Are A Few More Delicious Recipe & Tips For Your Next Cook Out…