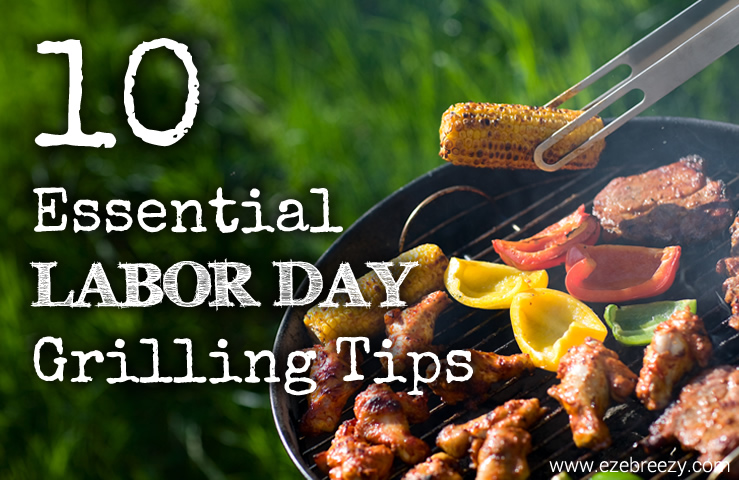 I love to grill.  Well, let me clarify that…I love when my husband grills!  To be honest, I find grilling to be a bit intimidating.  Put me in front of a stove in the kitchen and I feel right at home but for some reason when it comes time for me to put something on the grill, I feel completely overwhelmed.  But not any more!
Here are the 10 essential grilling tips that changed me from being overwhelmed to being a grilling master!
1. A digital thermometer is your best friend.
Forget the poke test.  Using a thermometer when grilling is the way to go.  It will not only ensure your food isn't under-cooked but you'll make sure you don't overcook as well.  I love to use a digital leave-in thermometer because I can check the temperature without having to left the lid.  And if I forget, I always have my instant read thermometer handy.
2. Put a dimple in it.
When burgers puff up in the middle it can be challenging to put on toppings.  To prevent the domed burger, put a little dimple or indent in the center of each burger.  Use your finger or use a spoon — whatever works best for you.  This way when the center of your burger pushes up during cooking, the top of each burger will stay reasonably level.   And be sure to grill your burgers over high heat to no more than medium to keep them from drying out.
3. Smart  Kabob Prep.
It's important to soak your bamboo skewer in water before using to prevent them from burning.  To save time soak a big batch once for about an hour or so, then drain the water.  Then place them in a plastic bag and freeze.   When it's time to BBQ, pull out as many skewers as you need and save the rest for next time!
4. No cleaning brush? No problem!
Simply crumble up aluminum foil to the size of a medium size apple and grab the foil ball with your tongs.  Using locking chef tongs makes this super easy.  The tongs will act like your handle.  Now simply brush away.
5. Make your grill surface non stick using a potato.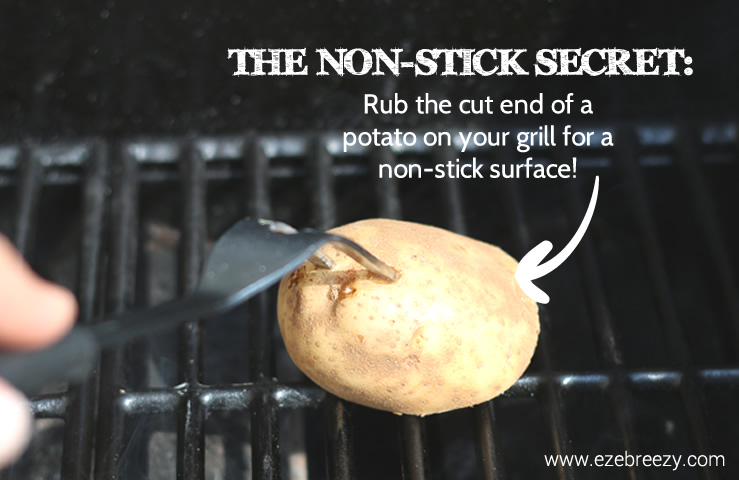 This is by far one of my favorite grilling tips.  This honestly works!  And if you cook fish like salmon on your grill, you'll be over the moon.  It all comes down to the starch in the potatoes being subjected to the heat from your grill.  Simply cut the potato in half – I use a russet potato – and grab the uncut end with a fork.  Then rub the cut end of the potato on your grilling surface.  It's that easy!
6. Marinate in non-reactive mixing bowls.
Stainless steel mixing bowls are the perfect choice when prepping and marinating for your barbecue.  SS bowls are easy to clean, are dishwasher safe and most importantly won't react with acidic ingredients that are commonly found in brines, marinades and BBQ sauces.  Some other non-reactive options are ceramic, glass and metal cookware.  Stay away from using reactive cookware such as aluminum, cast iron and copper because foods — especially acidic foods — cooked in reactive cookware can often pick up a metallic flavor and even turn a funny color.
7. Keep'm close but not too close.
Stacking your kabob ingredients correctly is key to the perfect juicy kabob.  Remember to keep your kabob ingredients, such as the chicken and steak,  touching slightly on the skewer.  This will help the meat  stay juicer longer.  I find that cooking the marinaded meat on the skewers and grilling the veggies separately make them perfect every time!
8. Pat marinated steaks dry before grilling.
This tip comes from Jamie Purviance, grilling pro and author of Weber's Way to Grill: The Step-by-Step Guide to Expert Grilling and has been a staple when we throw steaks on the grill.  "After you marinate your steaks, pat them dry on both sides. Wet steaks don't sear; they steam.  Also, resist the temptation to lift the lid and turn the steaks over and over. You develop the richest flavors in steaks when you leave them alone as much as possible, turning them just once or twice."
9. The key to super moist chicken.
Make sure you keep an indirect heat zone on your grill.  Chicken grills best when cooked over indirect heat.  This was a hard learned lesson for me.  Putting the meat on the cooler side of the grill will ensure that it cooks slowly, evenly and will make sure that glazes and other sauces don't burn.  Finish the last few minutes of  your cooking over direct heat for a nice light char.
10. Sauce the last 5-10 minutes of cook time.
Adding your sauce and moving your meat to a higher grill rack is ideal when added your baste sauce.  Exposing your sauce to direct heat for a long period of time will cause the sugars to burn quickly leaving you with a hard charred mess.   If you don't have a higher rack just lower the heat on the burner under the meat if using a gas grill or simply  move it away from the direct flame.  I love making different sauces and marinades for grilling but when I am looking for a quick barbecue sauce –
Sweet Baby Ray's
is our "go-to" favorite for grilling time.
I hope you found a tip or two that will help you master the grill.  Don't forget to share your favorite grilling tips with me…I'll have fun trying them out!
You Might Also Like…