This silver jewelry cleaner is so simple to make and works on the toughest tarnish.  I have found the best silver cleaning secret ever!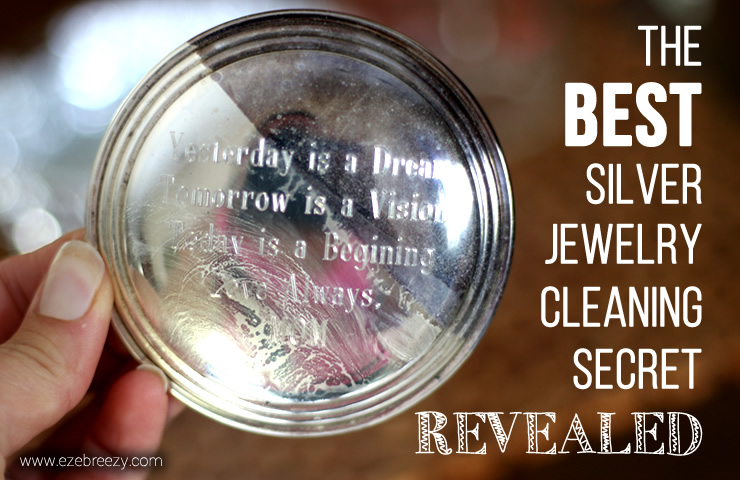 I have a small round sterling silver jewelry box means to world to me.   It was the last present my Mom gave me before she passed away.  I keep it on my dresser and use it to hold by wedding rings and other earrings I wear daily.  The top of the box is engraved with an inspiring quote.  I am not sure who spoke these words but they struck a cord with my Mom and I love looking at this every day.
Unfortunately, like anything sterling silver, the box becomes tarnished over time.  I have tried everything to keep this beautiful box clean – from polish cleaners to special sterling silver cleaning cloths.  I tested a few techniques I found online and most of then fell flat.  All except this one!
Nothing, I mean NOTHING, works like this sterling silver jewelry cleaner secret I found over at My Clean Space.  She has found the magic silver cleaning combination and my jewelry box has never looked better.
This is what I started with… I know…it's bad.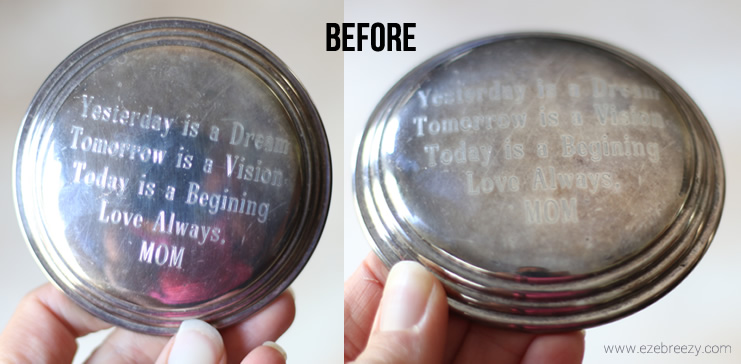 Now to the magic silver cleaning combination.  The things you need for this silver jewelry cleaner are simple and you probably have them in your kitchen this very second.
---
Here's What You'll Need for Silver Jewelry Cleaner:
1 cup of boiling water
1 tablespoon baking soda
1 tablespoon white salt
1/2 cup white vinegar
1 sheet of tinfoil, shiny side up
Bowl – I used a smaller Pyrex bowl but you could you a larger bowl or bucket if needed
Microfiber cloth
---
Directions:
Remember this is for silver only!
Start by boiling the water.  I just put mine in the microwave but you could certainly use a tea kettle.  While the water is simmering, line your bowl with the tinfoil, shiny side facing up.  Next, add the salt and baking soda to bowl.  Slowly add the vinegar (because of the fizz) and mix everything together.   Stir until the salt and baking soda are completely dissolved.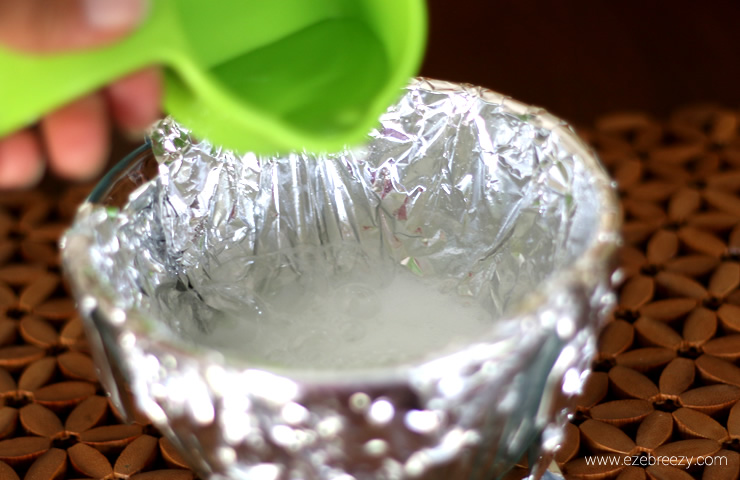 Next, add the boiling water to your bowl and gently lower your pieces of silver into the bowl.  Now just let it sit and watch the magic happen.  You can turn your silver pieces over using tongs to ensure that both sides are exposed to the tinfoil.  The soaking time will vary depending on how badly your silver pieces are tarnished.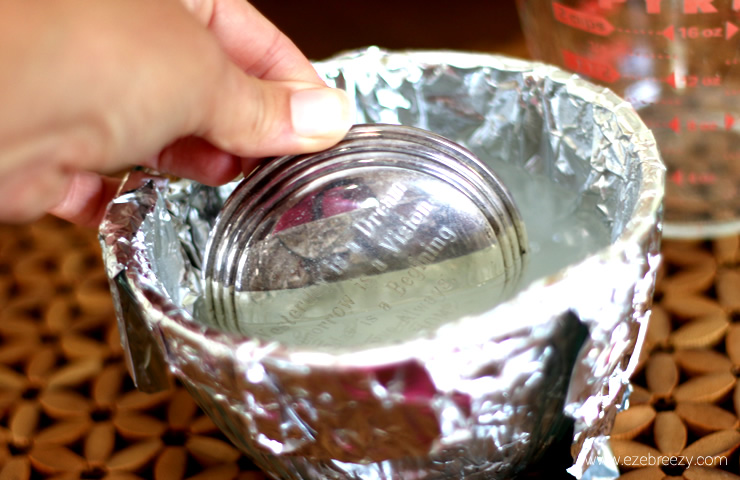 This silvery jewelry cleaner worked lightening fast.  It literally took less than 30 seconds for the top of my jewelry box to look like this…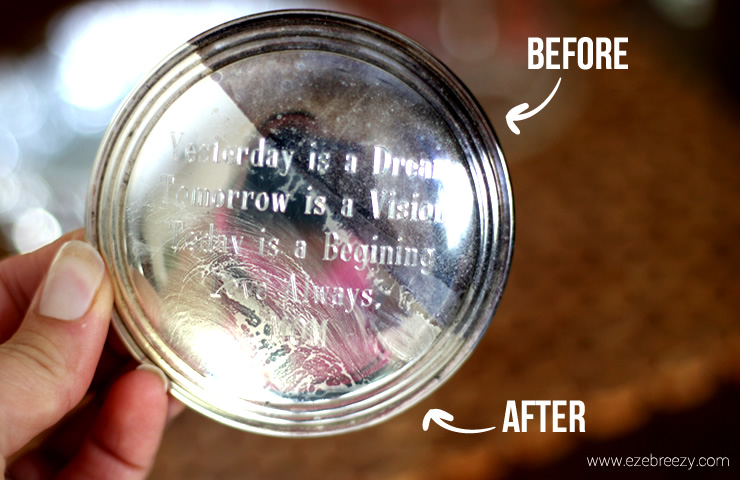 Remove each piece carefully from the bowl.  Your pieces will be hot so use caution.  Using your microfiber or polishing cloth, gently buff your silver pieces.  If the tarnish wasn't removed at soaking, this gentle buffing will remove any remaining tarnish and restore that shine!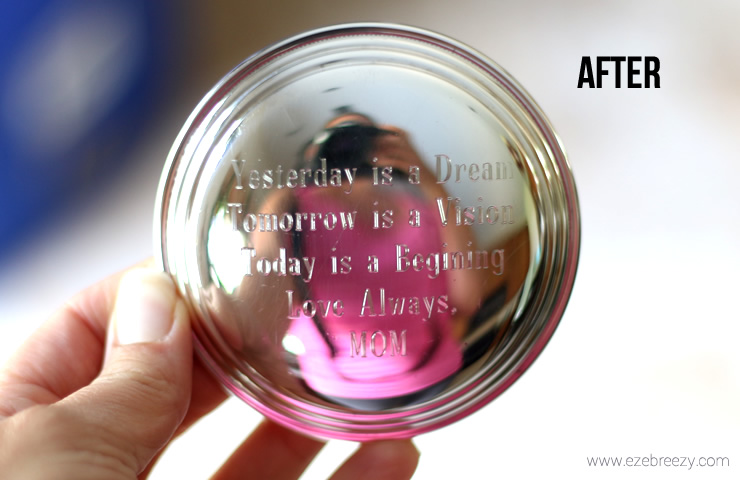 Please note, I DID NOT test this silver jewelry cleaner on any silver that contained gems or stones.  I would proceed with at your own risk and do some testing first.
I think the result are amazing…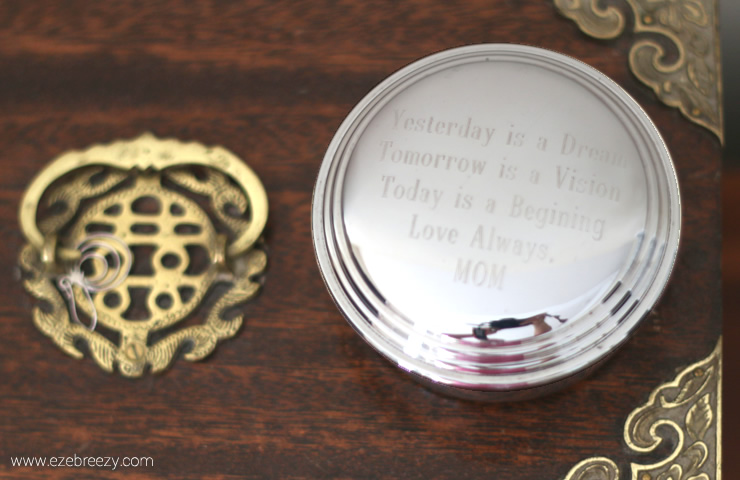 This was such an fast, easy and inexpensive way to clean my silver and is the only way to go.  Enjoy the tip and happy cleaning!
You Might Also Like…