There are two things that were just meant to go together — strawberries and chocolate.  And what better place to put the two together than a delicious refreshing pie.  But not just any pie… a Chocolate Covered Strawberry Pie!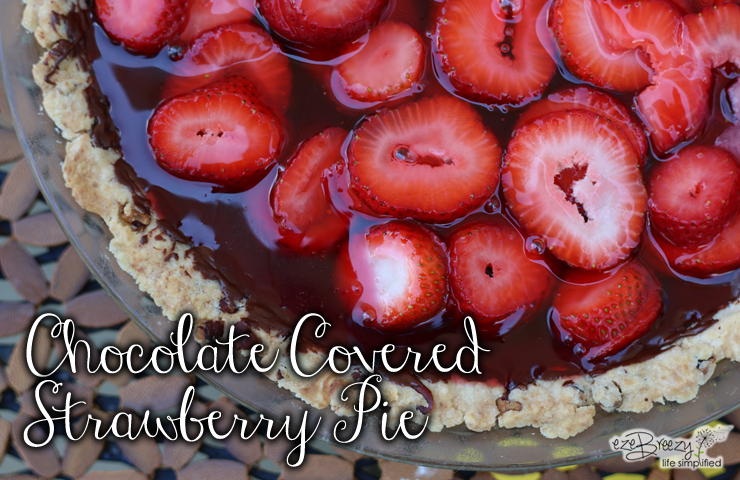 Now that we live in North Carolina,  we are lucky to be around a handful of farms that have fresh strawberry picking when the season rolls around.  My daughter LOVES picking strawberries and probably eats more then she actually puts in the basket – oops!  Not only do I love doing this as a family but I love coming home and seeing what we can whip up in the kitchen using our fresh picked strawberries.
This time I was determined to make a pie.  But not just any strawberry pie.  It had to be a little different so I looked to the most logical ingredient – chocolate!  Our house is a big family of dark chocolate but for this pie baking adventure I decided to go with semi-sweet.  You can't go wrong with whatever type of chocolate you choose!  This strawberry pie recipe starts with this amazing crust that's made up with chopped pecans.  This crust works great using almonds too.  Now if you are dealing with nut allergies in your family — no worries.  This pie is just as yummy using a standard Perfect Flaky Pie Crust.
You will need to pre-bake your pie crust since the balance of the pie will set up in the fridge.  After you remove the pie shell from the oven let it cool completely before you spread your layer of melted chocolate on top.  Once the chocolate layer  has dried, you can finish assembling the filling and place the pie in the fridge to set for 3-4 hours.  Enjoy!
Chocolate Covered Strawberry Pie Recipe
INGREDIENTS
Crust
1-1/4 cup all purpose flour
1 tsp. white sugar
1/2 tsp. salt
1/2 cup almonds or pecans, chopped
1/3 cup oil – I use coconut oil
3-4 Tbsp. water
60z. semi-sweet chocolate chips, melted
Pie Filling
1-1/4 cups water
1 cups white sugar
1/2 package (3 ounce) strawberry flavored Jell-O® mix
2.5 Tbsp cornstarch
1 quarts strawberries, hulled and sliced
DIRECTIONS
Crust
1. Preheat oven 375°F, 190°C
2. In a large bowl, combine all ingredients and stir until moist.
3. Press dough onto bottom and sides of the pie plate.
4. Bake for 15-20 minutes.  Crust will be light golden in color.   Cool completely.
Pie Filling
1. In a saucepan over medium heat, combine sugar, water and cornstarch. Cook over medium-high heat, stirring constantly. Once the mixture starts to boil and thickens, remove saucepan from the heat and stir in the strawberry gelatin. Allow to cool slightly.
2. Take your chocolate coated pie crust and arrange the sliced strawberries in the pie crust. Pour the gelatin mixture over top of the strawberries covering them with the gelatin. Repeat for 2nd pie.
3. Place pies in refrigerator and allow to chill until gelatin mixture is set, approximately 4 hours.
4. Top with whipping cream when serving.
Enjoy!
What's your favorite pie recipe?
You Might Also Like…