Red Wine Hot Chocolate.  That's right… red wine + creamy decadent hot chocolate. They are amazing just by themselves, but put them together and it's probably the closest thing to heaven on earth.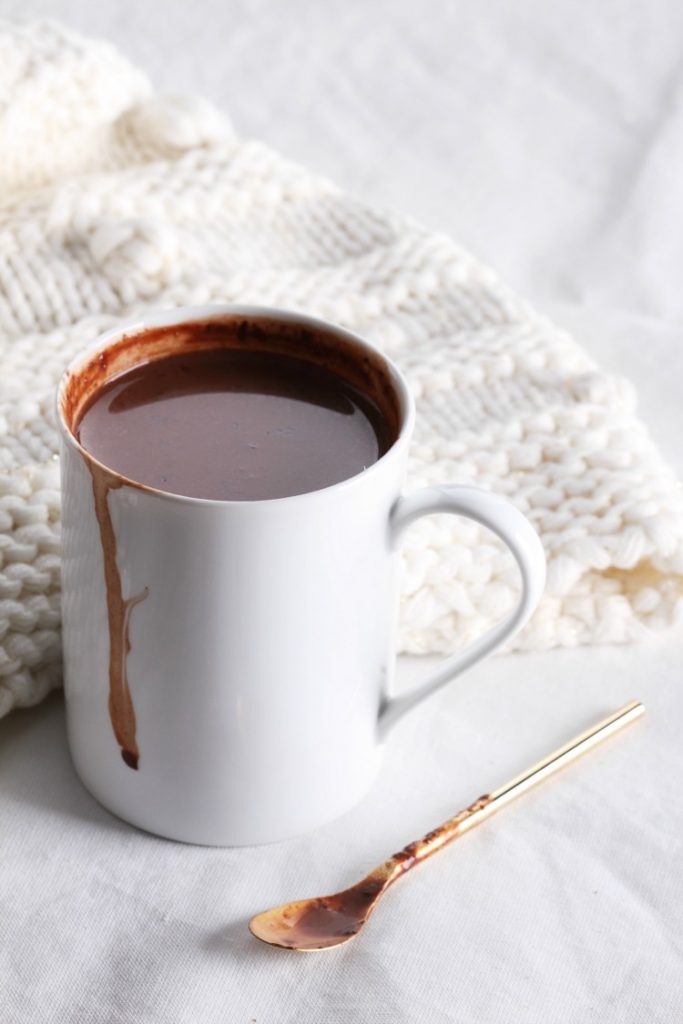 Ever since I saw this recipe on ImmaEATthat, I knew I had to give it a try.  I mean, Red Wine Hot Chocolate…what a brilliant idea! So simple yet so genius.  It's the perfect combination of two of my favorite things.
The concept of this recipe isn't all that new; it originally posted on SAVEUR in 2012.  Kylie Mitchell's (ImmaEATthat) version has been the talk of the web for the past few months, so I knew it was time to see what all the buzz was about.
The recipe starts with three simple ingredients: milk, wine, and chocolate.  You can leave it at that, or add a little sugar depending on the sweetness of the wine you use or simply, your taste.  I found that Red Wine Hot Chocolate is pretty versatile and can be adjusted to suit anyone's liking.
Prefer milk chocolate over dark?  Go for it.  Want to sip on something a little bit sweeter, use a fruitier wine like a Pinot Noir or Grenache instead of a dry red.  You can even add a touch of sugar to find the right balance.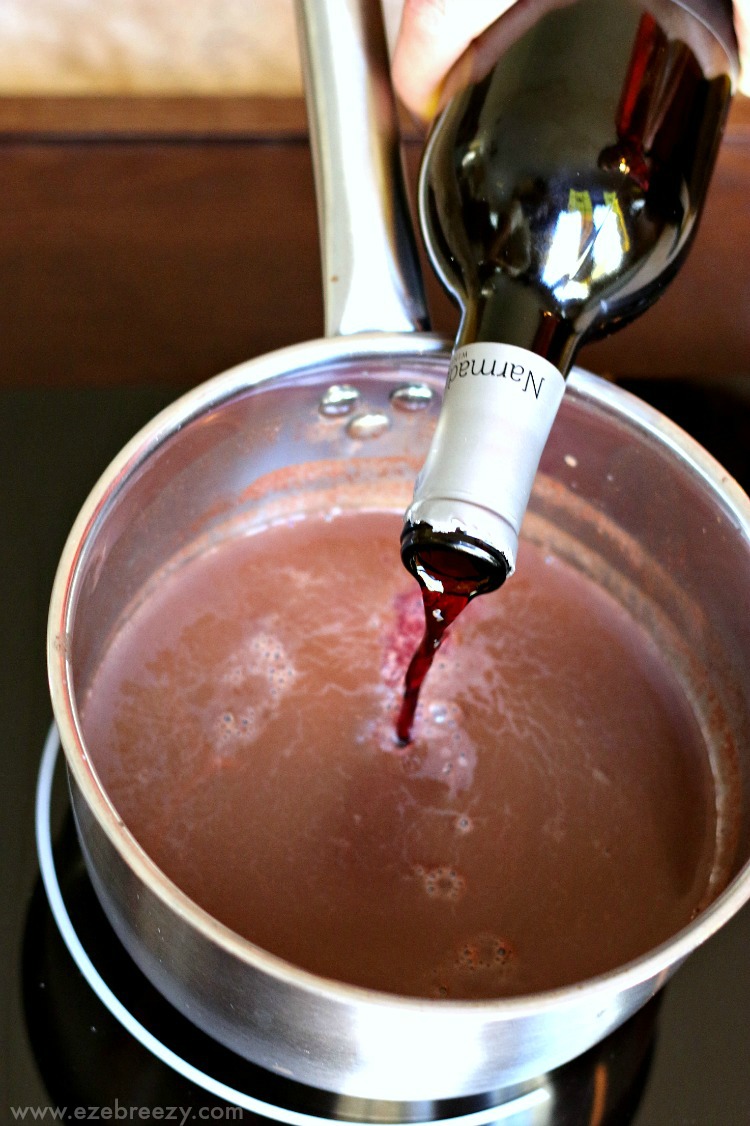 Whipping up a cup of this boozy hot chocolate couldn't be easier. Start by heating the milk in a sauce pan, adding and slowly melting the chocolate, and then gradually adding the red wine, stirring until hot.  That's it!  So simple. So delicious.
Now this adult hot chocolate is rich – but rich in a good way…the BEST way.  Mitchell actually recommends drinking it as more of a sipping hot chocolate, to be served in smaller cups and I completely agree.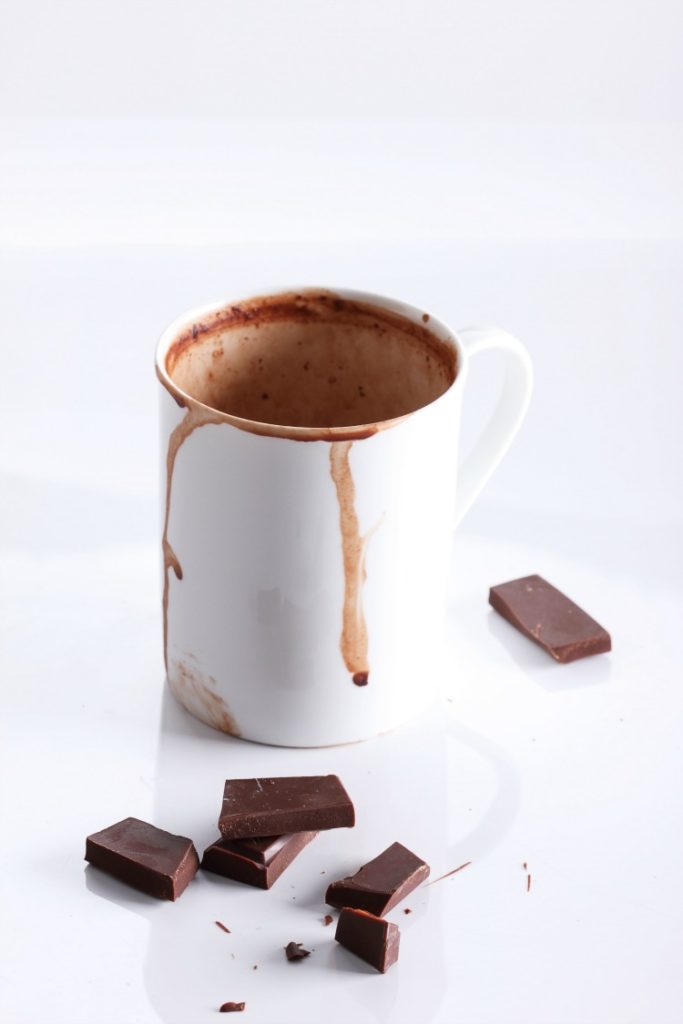 I am happy to report that is idea of Red Wine Hot Chocolate did not disappoint.  It is a cup full of silky, decadent, chocolaty deliciousness, and the ultimate indulgent drink for the cold weather season.
You must try it out for yourself!  After playing around with a few different versions, I think I  found the perfect combination. I hope you enjoy!  
Red Wine Hot Chocolate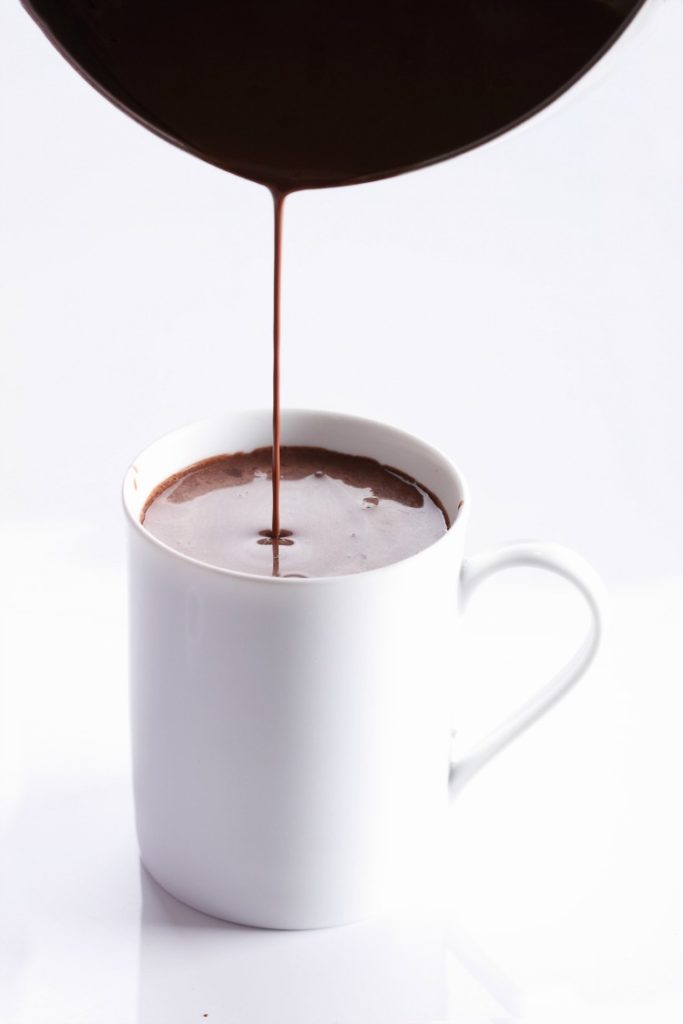 Be sure to check out these other boozy beverage favorites: Spiked Wild Berry Lemonade & Crazy Good Sangria.

Red Wine Hot Chocolate
Prep time:
Cook time:
Total time:
Ingredients
½ cup dark chocolate chunks
1 cup milk (I used 2%)
½ cup red wine (Pinot Noir, Greneche, Syrah, Cabernet Sauvignon - I used a Pinot Noir)
2 Tbsp. sugar (optional)
Pinch of salt
½ tsp. vanilla extract
Instructions
Add chocolate chunks, wine, milk and sugar (if using) to a small saucepan over medium-low heat. Stirring constantly, heat until chocolate chunks are completely melted and mixture is hot.
Remove from heat and add vanilla and salt. Stir to combine.
Pour into mugs and serve immediately*
Notes
* If using sugar, add along with chocolate, milk and wine. If you aren't sure about adding sugar, I suggest tasting it without first and then add if you'd like your beverage a bit sweeter.

**This drink is rich so you can serve red wine hot chocolate in 6-8 smaller cups instead.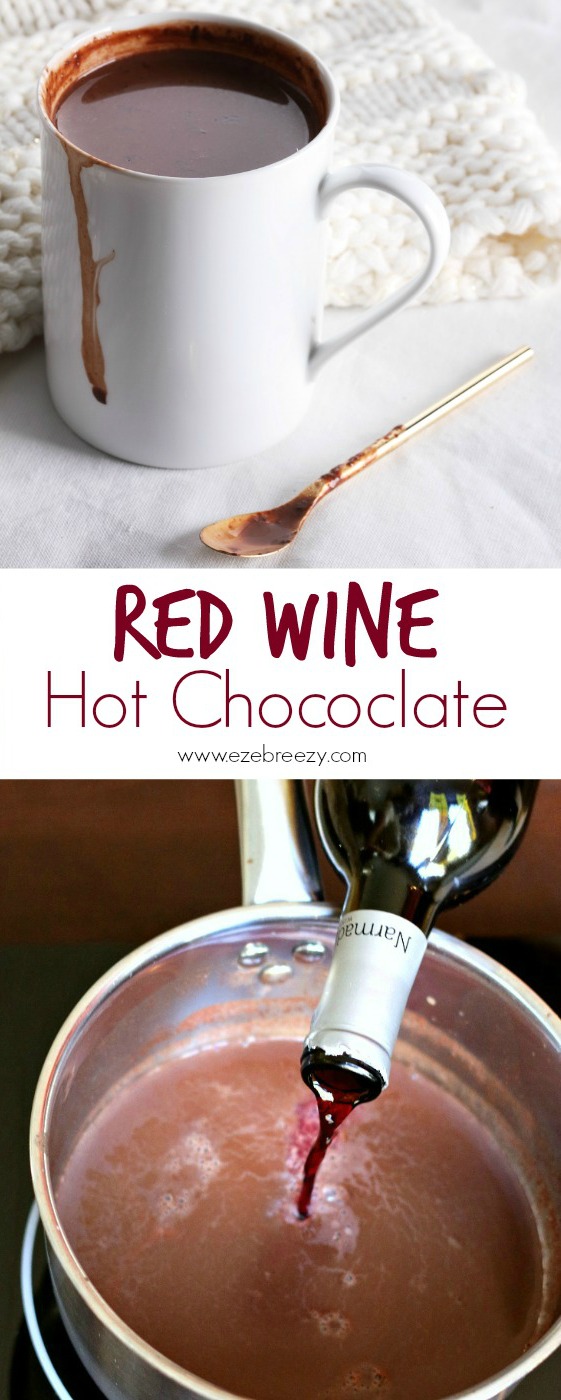 You Might Also Like…