These delicious Brussels sprouts are pan-fried and toss with sweet dried cranberries and crispy bacon; the perfect side dish for your next holiday gathering.
Poor Brussels sprout – this veggie certainly gets a bad wrap.  Some may say it's even one of the top vegetables that kids (and even some adults) love to hate.  But these cute little cabbage-like sprouts need to be given a second chance and this recipe is the one for the job.  It will make a Brussels sprout lover out of anyone!
Every year, our Thanksgiving table is full of family favorites like pumpkin pie, my husband's AMAZING dressing and…Brussels sprouts.  They are by far my husband's favorite and a necessity every year for the holidays.  I've made Brussels sprouts dozens of different ways and THIS is by far our favorite.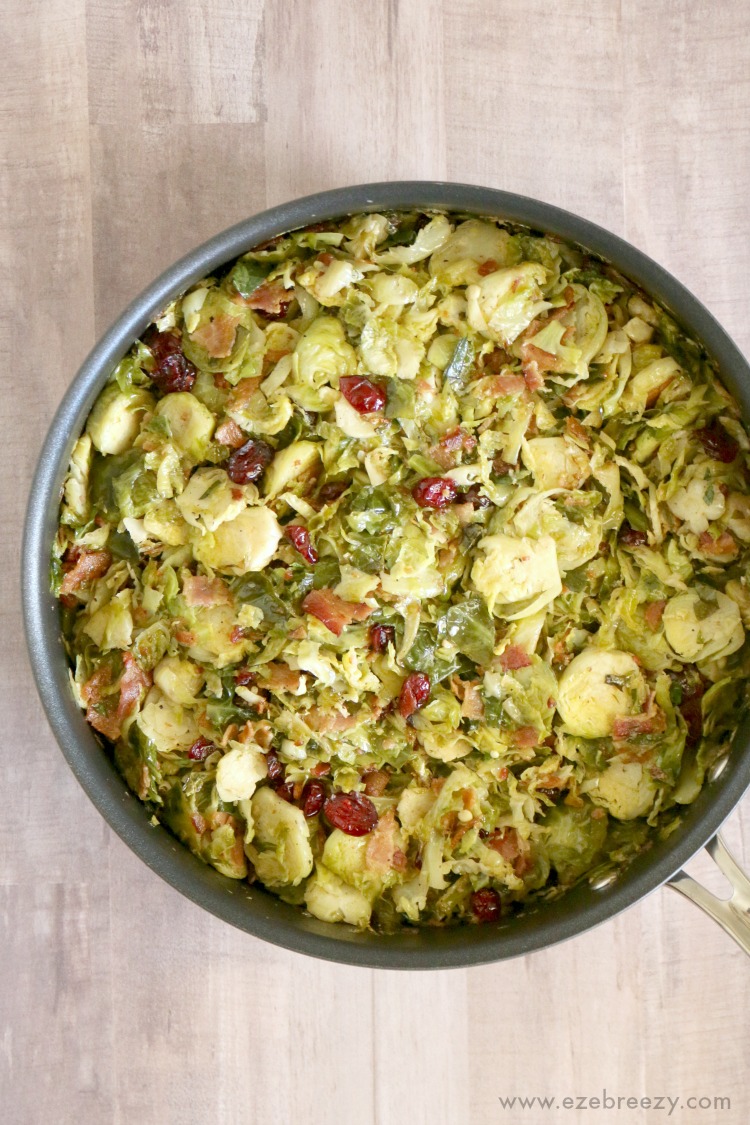 Sliced Brussels sprouts pan-fried with crispy bacon and sweet little dried cranberries.  DE-licious!  Slicing these little sprouts are just the perfect way to ensure that get nice and tender.  The bacon adds that crispy/salty element, and the dried cranberries finish things off with that perfect touch of sweetness.  Honestly, every year, this recipe converts at least one anti-Brussels sprouts family member or friend.
I cooked the bacon in the oven.  I love this splatter-free way of cooking bacon but you can certainly cook it in a skillet if you prefer.  If you've never baked bacon, check out my How To Cook Bacon in the Oven post.
If you want to get right to it, simply line a sheet pan with some foil, lay out the bacon (it's okay if it overlaps a little – just don't stretch it), and bake for about 15-20 minutes at 400 °F.
That's it!  I like using a baking rack because it keeps the bacon out of the fat drippings.  For some reason it makes me feel a little less guilty about eating that bacon when I see some of  that fat rendered out!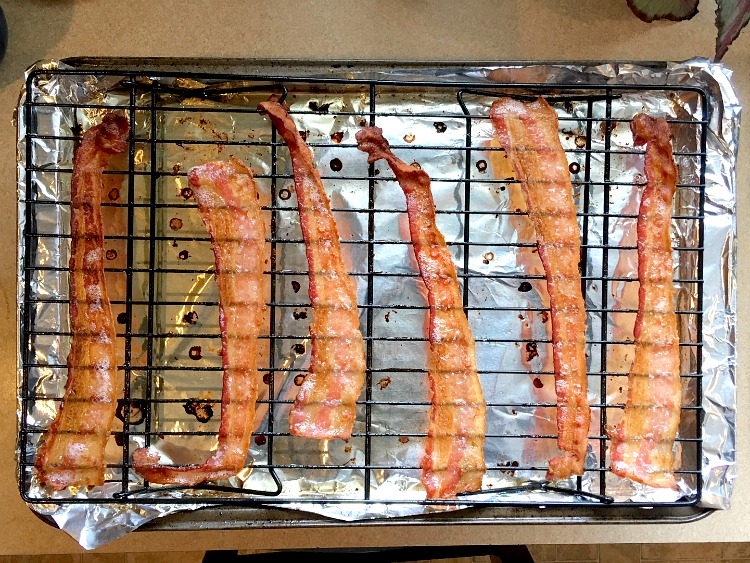 This recipe can easily be made in advance.  To reheat, just pop the Brussels sprouts back in a deep skillet pan and heat on medium, covered, until heated through.  Be sure to stir occasionally.
These Pan-Fried Brussels Sprouts are definitely a family favorite for the holidays and I know it will soon be one of yours.  Enjoy!

Pan-Fried Brussels Sprouts with Cranberries and Bacon
Prep time:
Cook time:
Total time:
Ingredients
14 ounces brussels sprouts, thinly sliced
2 tablespoon butter
8 garlic cloves minced
sprinkle of salt and pepper
6 Tablespoons olive oil
12 bacon strips
⅔ cup dried cranberries
Instructions
Prep brussels sprouts: Trim brussels sprouts and slice thinly.
Add brussels sprouts to a large bowl and microwave until soft, about 5 minutes.
Add butter, garlic, salt, and pepper; toss until butter melts. Add olive oil and toss again until coated. Set brussels sprouts aside for 30-60 minutes to marinate.
Cook the bacon: Arragne bacon on a foil lined sheet pan and place on center rack in a cold oven. Turn oven to 400 °F and bake for 15-20 minutes depending on the thickness of bacon, until golden brown. Remove pan from oven and transfer bacon to paper towel lined plate or baking sheet. Cool completely. Cut into ½" pieces.
Transfer brussels sprouts and bacon to a deep skillet. Cook for 5 minutes; stirring occasionally. Add cranberries and cook for 2 minutes, remembering to stir.
Serve immediately.
IF PREPARING AHEAD - After cooked, transfer brussels sprouts mixture to bowl or sheet pan and cool completely. Transfer to air tight container and store in the refrigerator. When ready to reheat, spoon brussels sprouts into a skillet, cover and cook on medium until thoroughly heated; stir regularly.
Notes
**If you prefer your brussels sprouts to be extra soft, cover pan after you combine the brussels sprouts and bacon, reduce heat to medium-low and cook until desired tenderness. Then add cranberries, cook for 2 more minutes, and serve.