No Churn Salted Caramel Toffee Ice Cream – Summer is officially here and that means it's time for more ice cream. This quick and easy no churn vanilla bean ice cream is bursting with salted caramel, toffee bits, and pretzels and just the perfect sweet treat for summer!

We are an ice cream loving family.  It's really an addiction what probably needs addressing but I'm certainly in no rush.  Especially as we are ready to officially kick off our summer!
School officially finished this past Friday and we are more than ready for the fun summer to begin.  I feel like kids around here got to school so much later than we use to growing up.  Once Memorial day hit…bam!…no more school.  But not these days.  There just seems something wrong about having to go to school into the second week of June.  But!  That's all in the past for this year and it's time to focus on the fun: sleepovers  with friends and awesome sleepover games, family vacations, playing in the neighborhood pool, ice cream, cookouts with family and friends; the list is endless.  I just love summer!
One of my FAVORITE things to make in the summer is make ice cream.  We do have this amazing ice cream machine BUT most of the time, I find myself whipping up an easy ice cream just like delicious this No Churn Salted Caramel Toffee Ice Cream.
My friends, this no churn ice cream is AMAZING!!!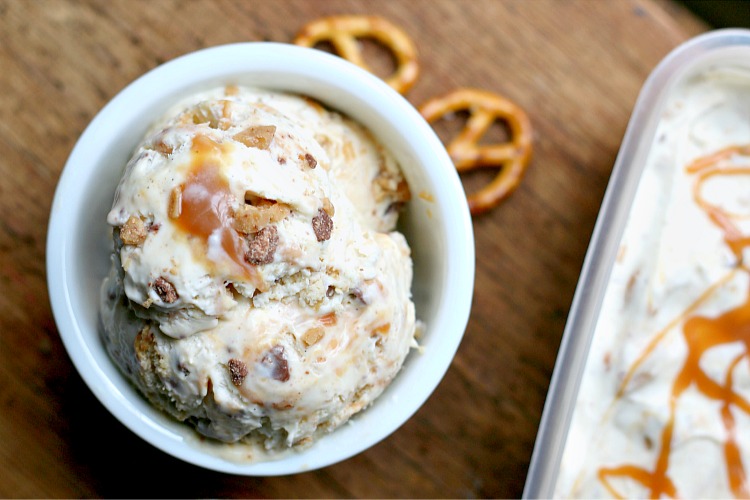 This post contains affiliate links meaning at no additional cost to you I may get a percentage of the sale if you buy through these links. Thanks for your support!
It is smooth and cream, cold and refreshing….each bite will make your mouth do a happy dance.  It is THAT good!  All no churn ice creams start with basically the same 2 ingredients: condensed milk and whipping cream.  After that…it's all up to you and your imagination.
This time around, I started with a vanilla base.  I'm going to share one of my little secrets to making outstanding no churn ice cream.  Ready?   Madagascar Bourbon Pure Vanilla Bean Paste.  Heavenly!  I actually use it in place of your standard pure vanilla extract in much of my baking.  And let me tell you, adding it to this No Churn Salted Caramel Toffee Ice Cream really takes the flavor to a whole new level.  If your interested in grabbing a bottle, you can find it here.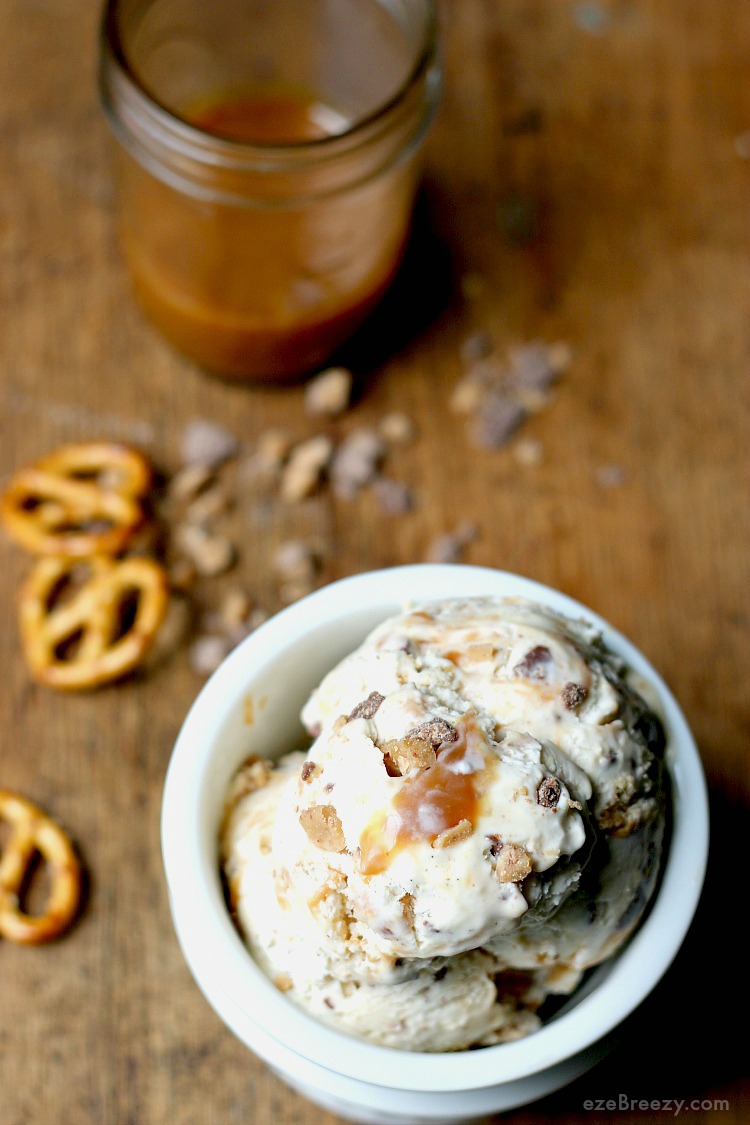 But don't worry, any pure vanilla extract will work.
Another great thing about no churn ice cream is that it's the kind of cooking the whole family can get involved it.  Kids of all ages will enjoy whipping up their favorite flavor and adding in their own special mix-ins.
For this batch, I honestly stood in my pantry to see what ingredients I had on hand to mix into the vanilla base.  The winners were toffee bits, goldfish pretzels and caramel bits.  The perfect combination!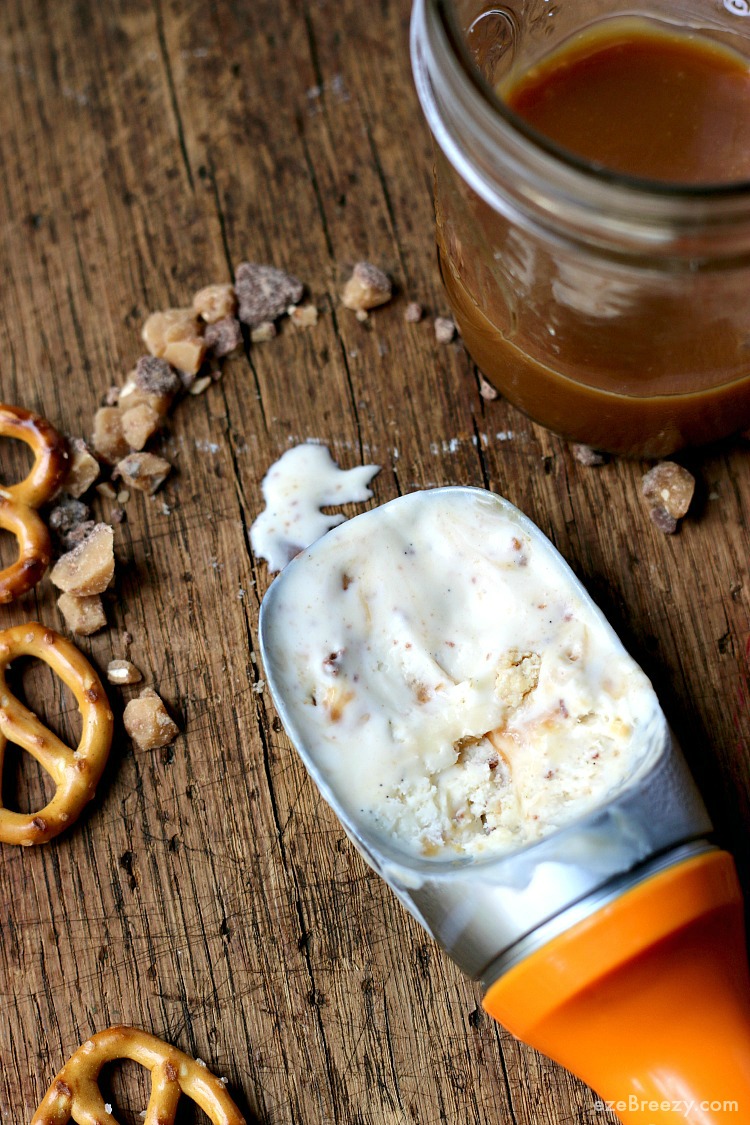 I didn't have a jar of caramel sauce so I just ended up using the caramel bits to make a quick caramel sauce.  I'm sorry I don't have pictures for this!  I wasn't thinking  but the steps are pretty straight-forward.  Put 1-cup of caramel bits in a sauce pan with 2 Tbsp of milk.  You can also use heavy cream if you have that on hand.  Slowly cook ingredients over low heat for about 10 minutes.  You'll notice everything start to meld together pretty quickly so be sure to stir continually. That's it!  Easy-peasy.
I think what makes this no churn ice cream so irresistible is the sweet and salty combo.  Take a closer look…nothing but sweet and salty perfection!
No Churn Salted Caramel Toffee Ice Cream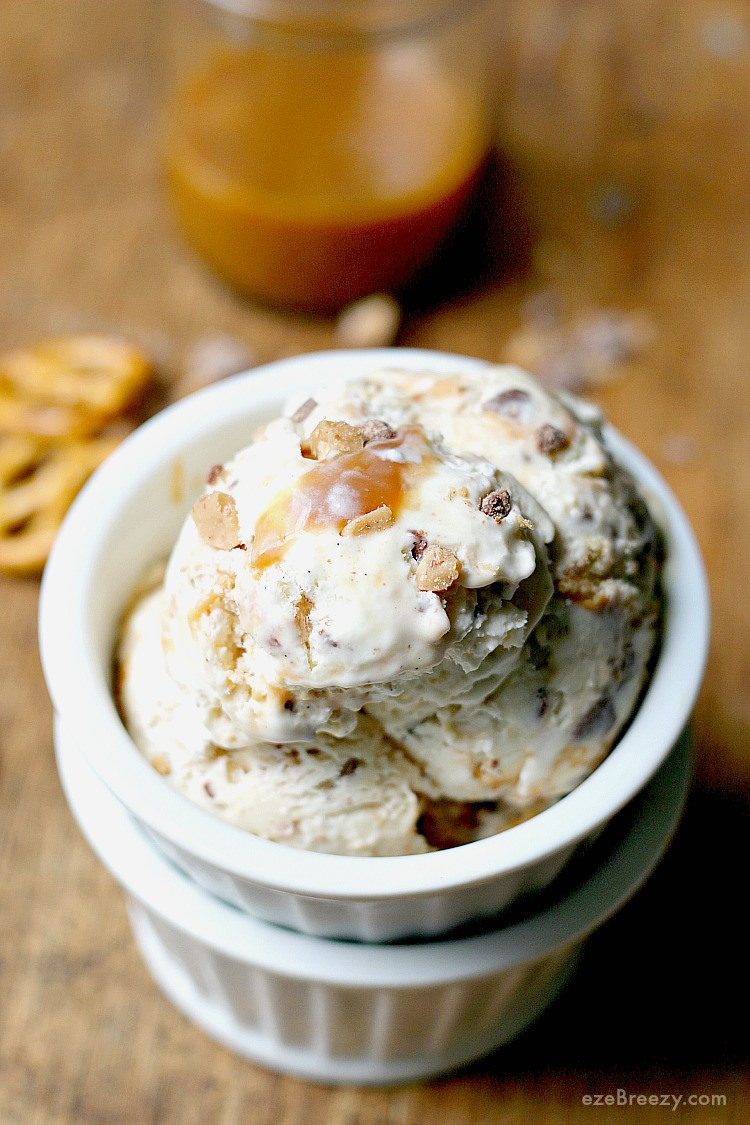 I'd love to hear about your favorite no churn ice cream combination.  I'm always looking for an excuse to make up a new batch.  I hope you and your family enjoy this one as much as we do!

No Churn Salted Caramel Toffee Ice Cream
Prep time:
Cook time:
Total time:
Quick and easy no churn vanilla bean ice cream bursting with salted caramel, toffee bits, and pretzels! The perfect ice cream treat for summer!
Ingredients
2 cups cold heavy cream
1 can (14 ounces) sweetened condensed milk
⅓ cup salted caramel sauce, plus two tablespoons, divided
1 teaspoon pure vanilla extract (or vanilla bean paste)
½ cup crushed pretzels
½ cup Heath toffee bits
Instructions
In a medium bowl, stir together sweetened condensed milk and vanilla extract. Set aside.
In a chilled bowl of a stand mixer, using whisk attachment, beat whipping cream on high until stiff peaks form, about 3 minutes. If using hand mixer, this might just take a little longer.
Using a spatula or large spoon, carefully fold whipped cream into the sweetened condensed milk mixture.
Stir in pretzels and Heath toffee bits.
Pour ice cream mixture into a loaf pan or container. With a knife, swirl the ⅓ cup of caramel sauce into the ice cream. (Don't dump the full ⅓ cup at once. Pour the caramel sauce a third at a time, swirling with the knife between each pour).
Drizzle remaining 2 Tbsp of salted caramel sauce over the ice cream. Cover with container with lid or plastic wrap and freeze until firm, about 4-6 hours.
When ready to serve, remove from freezer, set out on counter for bout 10 minutes to soften slightly and serve!