The Amazon Echo seems to be all the buzz for the holiday this year.
My husband purchased one this past July on Amazon Prime Day.  He is a bit of a techie and was so excited about his latest find. I was not so sure.  To me, the Echo just seemed like another cool gadget to have in the house, but I was a bit skeptical of how much we'd really use it.  I mean, I had Siri to help me out if I had questions about stuff.  What was so great about this speaker that can talk to you?
Well let me answer that question for you…EVERYTHING!
I don't even know where to begin.  The Amazon Echo has quickly become my favorite gadget in the house.  And according to the over 40,000 reviews on Amazon, I'm not alone.
If you are not familiar with this little device, let me share a few things.
The Amazon Echo (A.K.A. – Alexa) is a smart speaker that you can control with your voice.  But she's so much more than just a plain old speaker.  [I realize that I just used a pronoun to refer to an electronic gadget, but she's really become one of my favorite house guests; it just seems fitting!]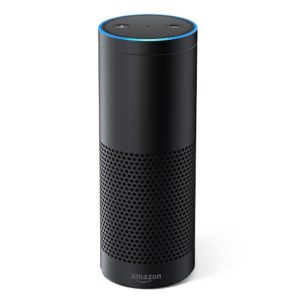 This 360º omni-directional speaker has amazing sound and plays music from Amazon Music, Spotify, Pandora, and more using just voice commands.  She answers questions about anything, reads books, and even reports the news, weather and current traffic reports for your area.  You can find out sports scores and team playing schedules. Alexa can also find you the answers to all of your cooking questions for in the kitchen, such as "Alexa, how many tablespoons are in 1 cup?" or "Alexa, set a timer for 15 minutes".
You can even use her to control lights, switches and thermostats with smart home devices such as Nest, WeMo, Phillips Hue, and Samsung SmartThings.  The uses for the Amazon Echo are pretty much unlimited and growing by the day.
Alex connects to the your Wifi and links to your Amazon account.  You can even order from Amazon; Alexa will provide you with options and place the order.  This is a feature that can be enabled, disabled and most importantly (in my opinion) be password protected.  The ability to add password protection to voice ordering is a huge thing for me.  Read how here.  The last thing I want is to come home one day to a porch full of boxes delivered from Amazon and ordered by my seven year old!
Amazon has even come out with a mini version of the Echo called the Amazon Dot.  The Dot has all the same features as the Echo, just with a smaller speaker.  And the price is right; it costs less than half of the Echo making it the perfect cool gift for friends and family this Christmas.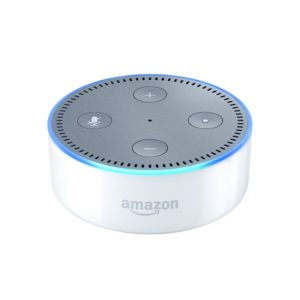 There are so many thing my family loves about the Amazon Echo.  My daughter especially loves having access to her Kidz Bop Kids playlist on Amazon Music!
I thought it would be fun to share some of our favorite things to ask Alexa.
Here are 17 fun things to ask your Amazon Echo (printable list)
"Alexa, who let the dogs out?"
"Alexa, what is your favorite movie?"
"Alexa, use the force."
"Alexa, happy birthday!"
"Alexa, where have all the flowers gone?"
"Alexa, tell us a knock-knock joke."
"Alexa, what can first, the chicken or the egg?"
"Alexa, tell me a random fact." (a family favorite!)
"Alexa, how do you say (fill in the blank) in spanish?"
"Alexa, Simon says + whatever you want Alexa to repeat."
"Alexa, start Animal Game or Capital Quiz."  These are 2 fun games if you have kids.  Alexa will play question games about animal and geography.  Perfect for the kiddos.  *This game will need to be enabled in your skills tab in the Alexa app.
"Alexa, roll the dice." I think this one is extra cool.  It's great when you are playing a game with little kids or even a game with missing dice.
"Alexa, rock, paper, scissors."
"Alexa, what does the fox say?"
"Alexa, who's the fairest of them all?"
"Alexa, how much do you weigh?"
"Alexa, how many licks does it take to get to the center of a tootsie pop?"
Download a printable version of this list HERE and give it to your kids to ask Alexa!
This is just the tip of the iceberg.  There are so many ways to use the Alexa.  And with the new  to For more fun things to ask your Amazon Echo, check out these silly Amazon Echo Easter Eggs from over on Reddit.
Be sure to check back next week.  From helpful time-savers to fun entertainment, I'll be sharing more cool ways you can use your Amazon Echo and Dot!
Happy Holidays!

Pin For Later…