This post was sponsored by Starbucks as part of an Influencer Activation.  I received compensation and complimentary products to facilitate my review but as always, all opinions are my own! 
The perfect sweet and spicy escape – Chai Latte + Spiced Jam Crostini.

I don't think there is anything more heavenly than a chai latte.  There's just something so relaxing and calming about this delicious creamy blend of black tea, cinnamon, ginger, cardamom and vanilla flavor.
I've tried to make my own chai latte at home but they always seem to fall flat, lacking that perfect combination of sweet meets spicy.
Last week, I was given the opportunity to try the new TAZO® Chai Latte K-Cup® pods. Made from milk, real tea leaves and spices, they looked to have  all the makings of a perfect chai latte.  I couldn't wait to give them a try.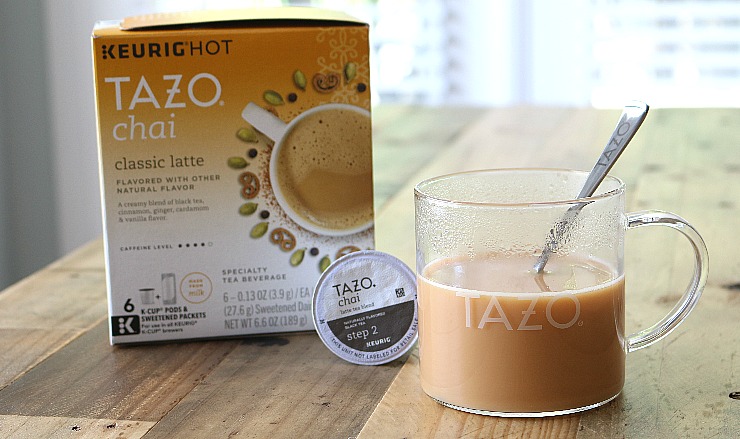 This past winter, I started waking up quite a bit earlier than the rest of my family so that I can have some time to myself.  It's become a time of the day when I do my best thinking and planning – an uninterrupted and quiet escape from world.  It was the perfect time to  see what these new TAZO® Chai Latte K-Cup® pods were all about.
I love that TAZO® thought to create a way to make this rich, creamy cup heaven with the Keurig® brewing system – awesome!  I love the Keurig® because it brews your drink in a flash and is literally mess-free.  I'm all about easy and simple.
There are just a few easy steps to make your rich, creamy chai latte.  The TAZO® Chai Latte is a simple two-step process: the dairy blend packet and the TAZO® Chai Latte K-Cup® pod.  
1. Start by pouring the sweetened dairy blend packet (Step 1) into your mug and place it under your Keurig® as you would normally.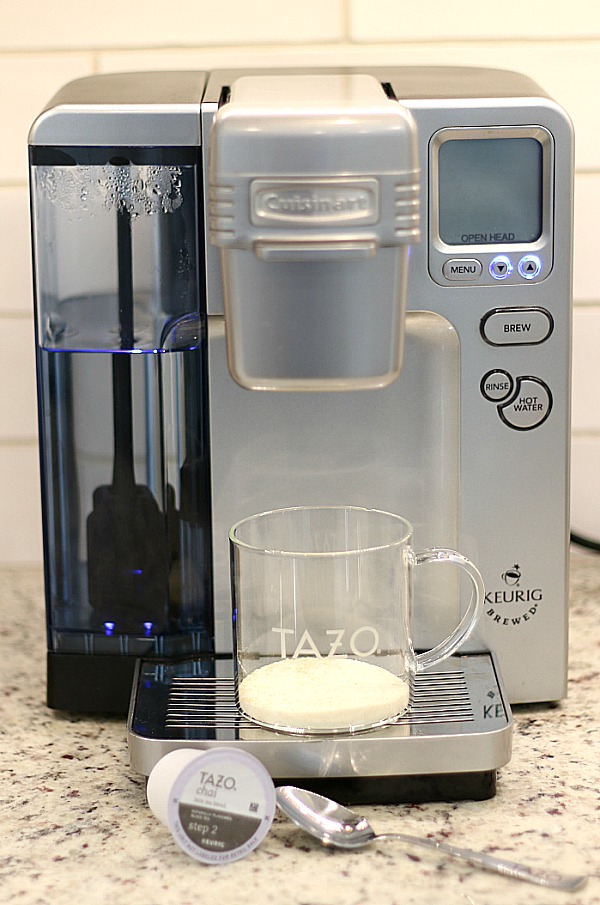 2. Pop in your TAZO® Chai Latte K-Cup® pod (Step 2) and select the 8oz. size serving.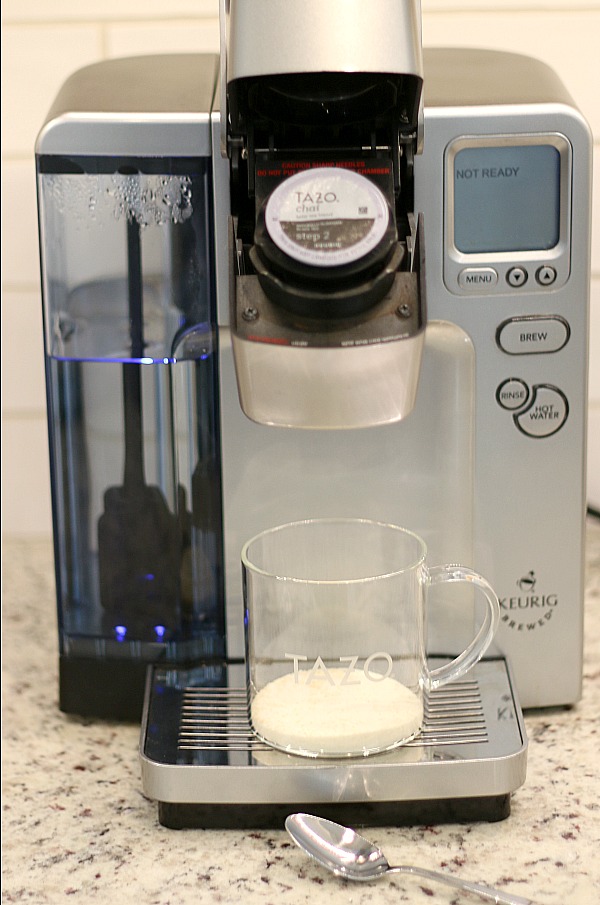 3. Press start and count to about 20.  Get ready because in seconds your whole kitchen will smell like an irresistible creamy blend of black tea, sweet cinnamon, spicy ginger, fragrant cardamom and vanilla.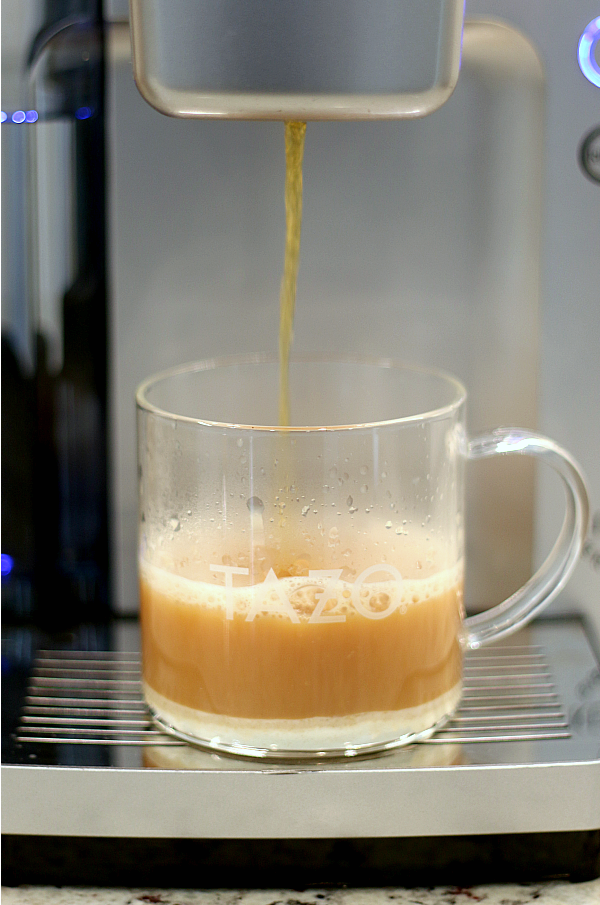 4. Once finished, stir and enjoy!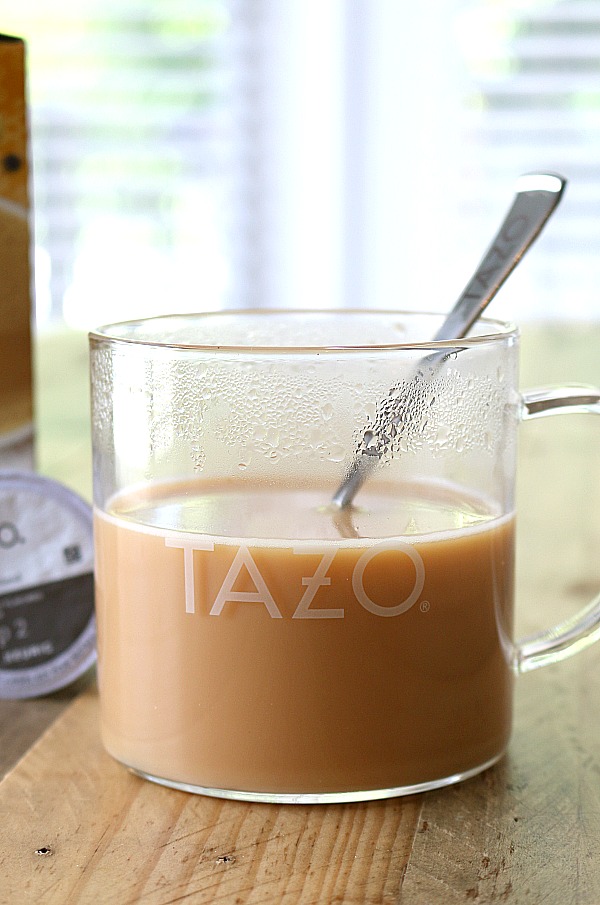 The result is the perfect combination of sweet meets spicy – a world of flavors anyone can now make from the comfort of home.  How could you not love that?
TAZO® didn't stop with just an amazing new chai latte.  They partnered with New York Times Bestselling author and host Padma Lakshmi to celebrate the release of the new K-Cup® pods (learn more at TAZO.com/chai).
Tea and chai have always played a big part in Padma Lakshmi's life and family traditions.  To celebrate her love of chai, Padma Lakshmi has developed delicious recipes that pair perfectly with a rich, creamy authentic TAZO® Chai Latte.  I couldn't resist giving one a try.
Check out these delicious toasted crostini with manchego cheese and spicy jam.  SO GOOD!  They are as tasty as they look, and I love how simple and easy they were to make.  You can find more scrumptious pairing recipes developed  Padma Lakshmi at  TAZO.com/chai/pairings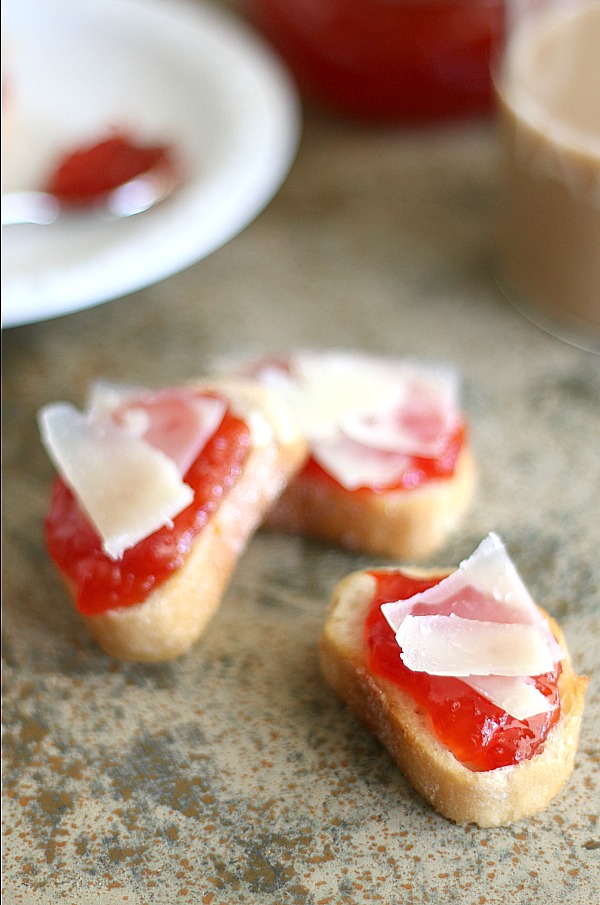 The jam provided a great balance of sweet and spice with a pop of flavor from the manchego cheese.  It was an amazing pairing with a hot cup of TAZO® Chai Latte and the perfect sweet and spicy escape at the end of a long day.

Spiced Jam & Manchego Cheese Crostini
Author:
http://tazo.com/chai/pairings
Prep time:
Cook time:
Total time:
Ingredients
4 slices of sourdough bread
4 slices of manchego cheese
6 teaspoons jalapeño or red chili jam
Instructions
Toast the slices of sourdough bread.
Spread 1½ teaspoons of jalapeño or red chili jam on each slice.
Place 1 slice of manchego cheese over the jam on each slice of bread, canvassing the whole surface.
Are you a fan of chai? What would you pair with your TAZO® Chai Latte? Do you think you'll try the new TAZO® Chai Latte K-Cup® pods? I'd love to hear from you!
Connect with TAZO® on FACEBOOK | TWITTER | PINTEREST | INSTAGRAM
Pin For Later: