Quick, easy and delicious, these Baked Meatballs are the BEST and definitely kid-approved!  This Bake Meatball recipe is simple to make and soon to be a family favorite.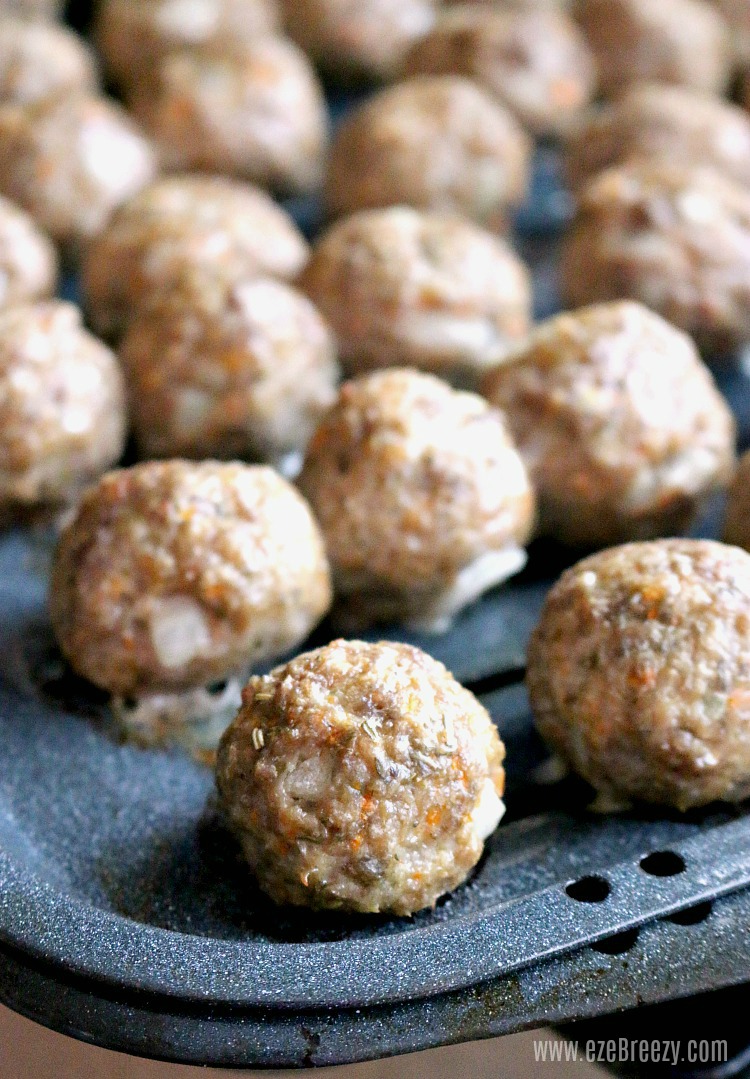 I started making these baked meatballs when my daughter was a toddler.  She loves them!  I love them because they are easy to make, have some hidden veggies, and are super versatile.  They are juicy, tender and packed with flavor.  I always make a huge batch and use them up all different ways throughout the week.  You can serve them with spaghetti and tomato sauce, with toothpicks and a side, in soups, or on a sandwich… the possibilities are endless.
And this recipe is so simple to make; simply add all the ingredients into a large bowl and mix with your hands.  It doesn't get any easier.

Another bonus about these baked meatballs is that they freeze well which can come in handy during those busy nights during the week.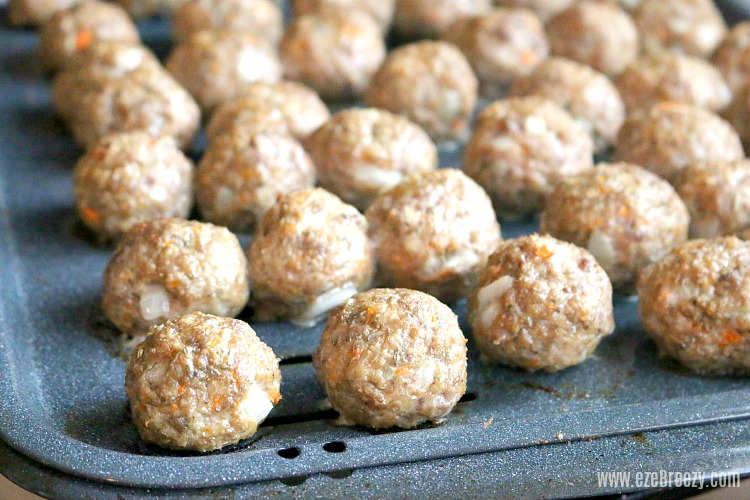 This post contains affiliate links.

The original recipe was made with all turkey and pan-fried.  I changed things up a bit and used a 50/50 mix of ground turkey and ground beef and baked the meatballs in the oven.  I am not a fan of cooking meatballs in the skillet; they don't always cook evenly and can fall apart when you turn them.  Plus, there's all that splattering oil to deal with.  No thank you!  I like to use this
cookie scoop
when making meatballs; it makes rolls meatballs lighting fast and ensures that they are all the same size.
Baking is such a better way of cooking meatballs.  The meatballs cook much more evenly and you don't need to stand at the stove and babysit them; just pop them into the oven and move on to something else!  I'm telling you…it's the only way to go!
The recipe will make about 30 meatballs and doubles nicely if you'd like to have extra to keep in the freezer.  This way, when a recipe calls for meatballs, you have them ready to go.  Defrost them in the refrigerator or put the frozen meatballs in your sauce or soup.

Having a handful of "go-to" recipe like this one can really come in handy during dinner time.  These Baked Meatballs are a staple in my kitchen and hands down one of the best meatball recipes around.  These baked meatballs are a huge hit with my family and I know they will be for yours too!  Enjoy:)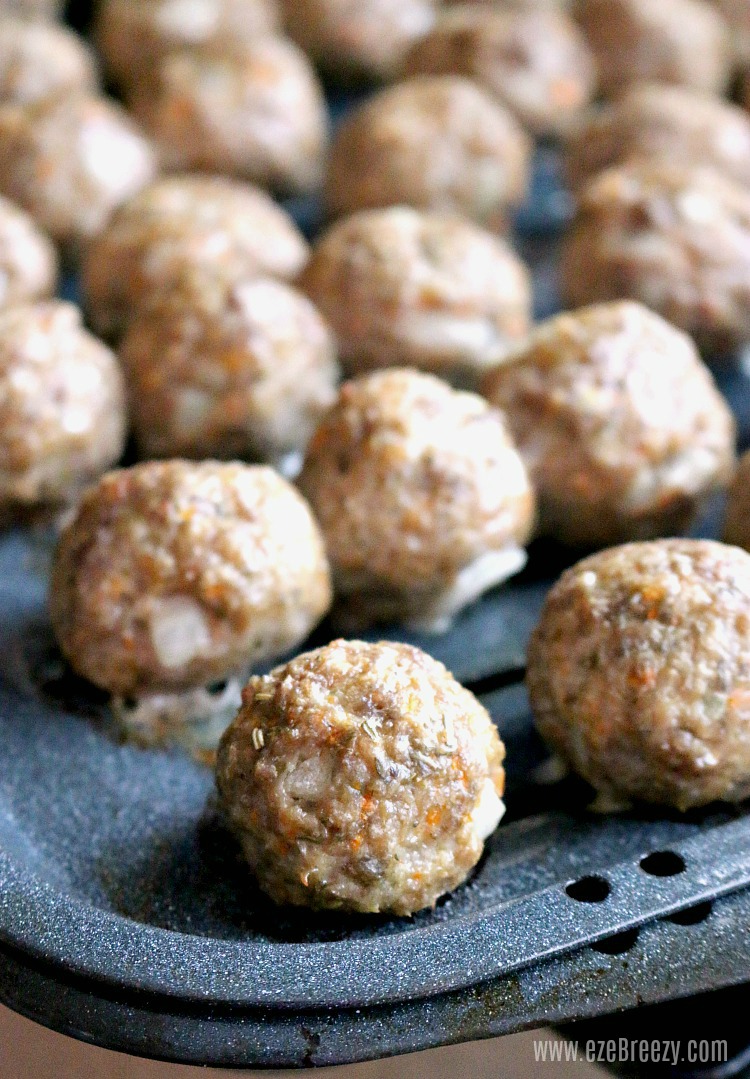 Baked Meatballs Recipe
Easy and Kid-Approved Baked Meatballs
Prep time:
Cook time:
Total time:
The perfect homemade meatball. Easy to make, Tender, juicy and definitely kid-approved!
Ingredients
1 pound lean ground turkey
1 pound lean ground beef
1 cup panko breadcrumbs
¼ cup finely chopped carrots
¼ cup finely chopped zucchini
¼ cup finely chopped onion
⅓ cup skim milk
2 large eggs
1 tablespoon Italian seasoning
¾ teaspoon dried oregano
2 tablespoons grated parmesan cheese
2 teaspoons coarse sea salt
Instructions
Preheat oven to 450 degrees F. Spray broiler pan with cooking spray or line 2 rimmed baking sheets with foil and set aside.
Place all ingredients into a large bowl. Using your hands, gently mix together all ingredients. Be careful not to overmix.
Using a cookie scoop (or your hands), divide meat mixture into meatballs. Be sure to keep the meatballs uniform is size.
Bake for 12-16 minutes, depending on the size. Be sure to check for doneness – internal temperature of 165 degrees F. Serve immediately with your favorite side or sauce.
Notes
TO FREEZE: Allow meatballs to cool completely, and then transfer meatballs to an air tight container or freezer safe bag. Be sure to remove any fat drippings off meatballs before storing.


Recipe adapted: Jessica Alba's Turkey Meatballs
Helpful tools for your kitchen…
Other recipes you might like…