This post was sponsored by Smithfield® as part of an Influencer Activation for Influence Central and all opinions expressed in my post are my own.
One pan meals are simply a godsend for those busy weeknights and with only one pan to clean, the family dish washer on duty will be much happier!  I have an amazingly simple, crazy delicious meal for you to add to your recipe rotation: One Pan Pork Tenderloin with Roasted Vegetables.
Weeknights can get pretty busy around here.  I know I'm not alone on that one!  And with holiday prep in full swing, it seems like our nights are even more hectic than usual which makes it tough to get dinner on the table.
Instead of grabbing some take-out or serving a cold bowl of cereal for dinner (yes, it's happened;D), I've been turning to simple, easy ONE PAN meals for dinnertime and it's been wonderful!  Even on our busiest nights, we are able to sit down and have dinner as a family.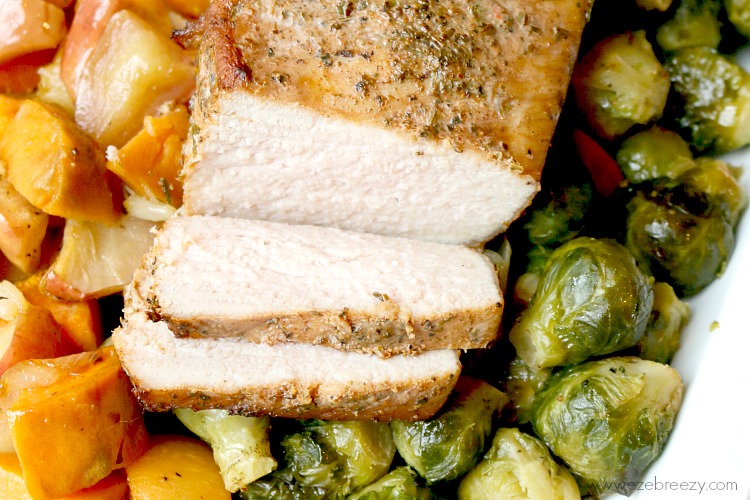 ONE PAN OR ONE SKILLET meals are simply the best because they are so quick and easy to put together, use a handful of simple ingredients, and dinner is on the table in just about 30 minutes!  And bonus…since you only use one pan…clean up is a breeze.  My kind of kitchen duty!
You can use so many different combinations of ingredients for one pan meals.  I like to see what specials are running at my local grocery store and go from there.
This week, our local Food Lion had some Smithfield Marinated 100% Pork in the weekly flyer that caught my eye.  There are a variety of flavor options and cuts available that are perfect for one pan meals.
Loin Filets:
Roasted Garlic & Herb Pork Loin Filet
Applewood Smoked Bacon Pork Loin Filet
Tenderloins:
Roasted Garlic & Herb Pork Tenderloin
Roasted Garlic & Cracked Black Pepper Fresh Pork Tenderloin
Roasts:
Sweet & Smoky Pork Roast
Boneless Pork Shoulder Seasoned Carnitas (Mexican-style meat)
The Smithfield Marinated Roasted Garlic & Herb Pork Tenderloin was the perfect start for my one pan dinner.  The tenderloin comes trimmed and slow-marinated in the bag with the perfect seasonings which is a huge time-saver.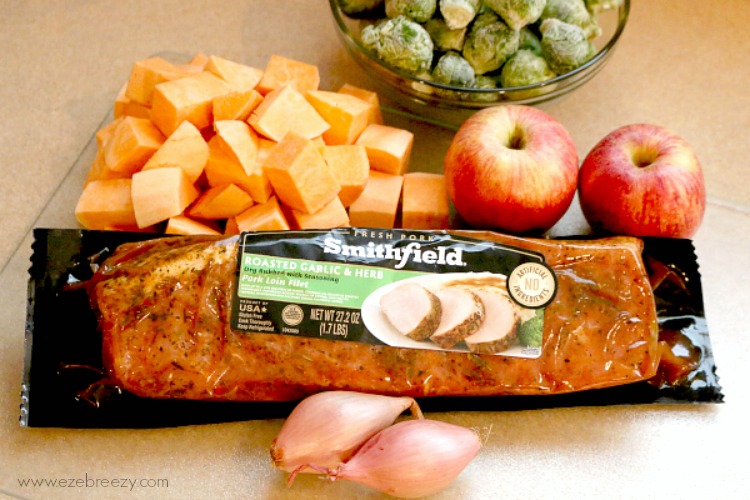 I decided to roast the Smithfield Marinated Roasted Garlic & Herb Pork Tenderloin with some apples, sweet potatoes, brussels sprouts and shallots.  Thanks to Smithfield for doing the prep work on the tenderloin, I had everything together and in the oven in just under 10 minutes, and dinner on the table so much faster.  Remember, one pan meals are super versatile.  You can easily swap out one veggie for another that better suits your family.  Not a fan of brussels sprouts…use broccoli or green beans instead!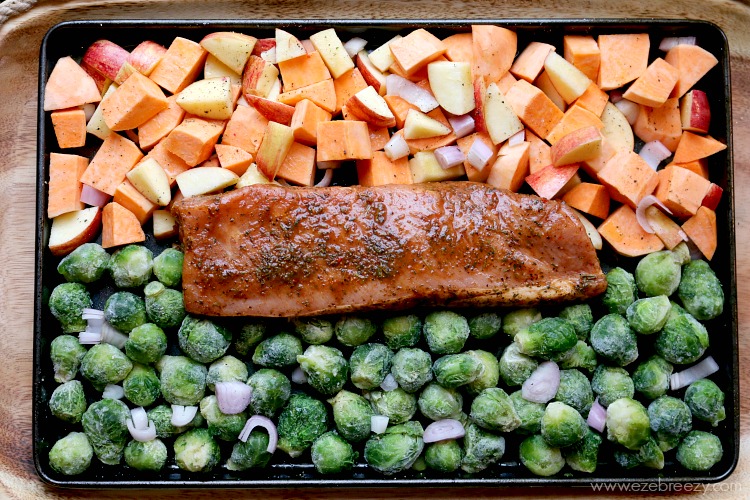 This meal was a huge success with my family.  The pork really delivers on flavor and is seasoned perfectly with just the right balance of spices.  Smithfield Marinated Pork makes dinnertime so much easier and helps bring "Real Flavor Real Fast" the dinner table any night of the week.
One Pan Pork Tenderloin with Roasted Vegetables
I actually went back and picked up a Smithfield Marinated Roasted Garlic & Cracked Pepper Pork Tenderloin for dinner next week.  Should I grill it? Roast it again? Saute it?  The possibilities are endless! If you have a Food Lion near by, be sure to run and pick one up; you (and your family) will be so glad you did. And stop by here to check out other delicious recipe inspirations, or follow Smithfield on Facebook or Twitter.
Be sure to check back to see what happens with that roasted garlic & cracked pork tenderloin.  It's on the menu for next week!

Crazy Delicious, Amazingly Simple One Pan Pork Tenderloin with Roasted Vegetables
Author:
Khrista | ezeBreezy Life Simplified
Prep time:
Cook time:
Total time:
Make dinner time easy with this tender, juicy marinated roasted pork with seasonal vegetables. Ready and on the table in under 30 minutes - perfect for any night of the week!
Ingredients
1 Smithfield® Marinated Garlic & Herb Pork Tenderloin
2 medium-size sweet potatoes, peeled and cut into 1-inch cubes
2 lbs. baby brussels sprouts (I just used frozen but you can certainly use fresh, just trim ends)
2 shallots, sliced
2 apples, peeled, cored, and sliced ½" thick
Salt and pepper, to taste
2 tablespoons olive oil
Instructions
Preheat oven to 425 degrees F.
Line a large cooking sheet (jelly roll pan) with aluminum foil or Silpat.
Add the brussels sprouts and shallots along one long side of pan and the apples and sweet potatoes on the other side, leaving the center of the pan open for the tenderloin..
Drizzle each side of vegetables with olive oil and toss until everything is completely coated.
Place pork tenderloin in the center of the prepared pan. Re-arrange the vegetables around the pork if needed.
Season with salt and pepper.
Place the pan in the oven, uncovered, and roast for 25-30 minutes, or until pork is cooked through and the internal temperature at the thickest part reads of 150 degrees F.
Remove pan from the oven and allow to rest for 10 minutes before slicing.
After pork has rested, slice, serve , and enjoy!
Notes
*** If you have any leftovers, try this AMAZING pork tenderloin on some sourdough bread with some tomato, a little mayo, arugula and fresh cracked pepper. DELICIOUS!!!