Chocolate chip cookies.  I am not sure there is anything better than a soft, chewy chocolate chip cookie.
I am so excited to share this amazing Gluten Free Chocolate Chip Cookie recipe with you today.  And I have to say, I bet anyone would be hard-pressed to figure out that this soft delicious cookie is actually gluten free.  It's A-MAZING!  So get that ice cold glass of milk ready because soon it will be time to start dunking!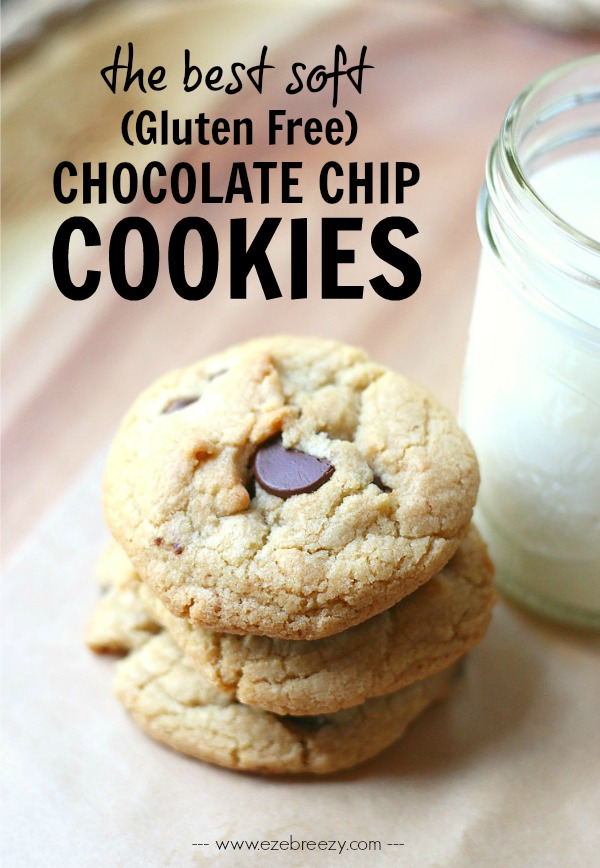 I've been playing around with more gluten free baking recipes in the kitchen these days.  Although I love traditional baking, my belly…doesn't seem to be on the same page.  Since we LOVE chocolate chip cookies in this house, creating a gluten free version of our favorite cookie was at the top on my list.
I used this chocolate chip cookies recipe because it's our absolute favorite.  Then I started making some changes.
Here's some things to keep in mind about baking gluten free cookies:
Gluten free flour blends tend to absorb fat differently than all-purpose flour; they actually can't soak up as much fat as AP flour.  So you need to make an adjustment by reducing the amount of butter in your gluten free cookie recipe.  This will help prevent your cookies from turning out too greasy.
Spreading can also be an issue when baking gluten free cookies.  Reducing the butter and adding a little xanthan gum into your mix will lessen the chance of your cookies spreading and baking flat.  Xanthan gum basically mimics gluten.  If you are using a store-bought gluten free blend, check the bag because these blends usually include xanthan gum.
You are also going to need to use more liquid and well as give the cookie dough some time to rest.  This will hydrate and soften the starches and actually give the sugars more time to disperse into the dough.  This is part of what helps make this cookie so soft and chewy.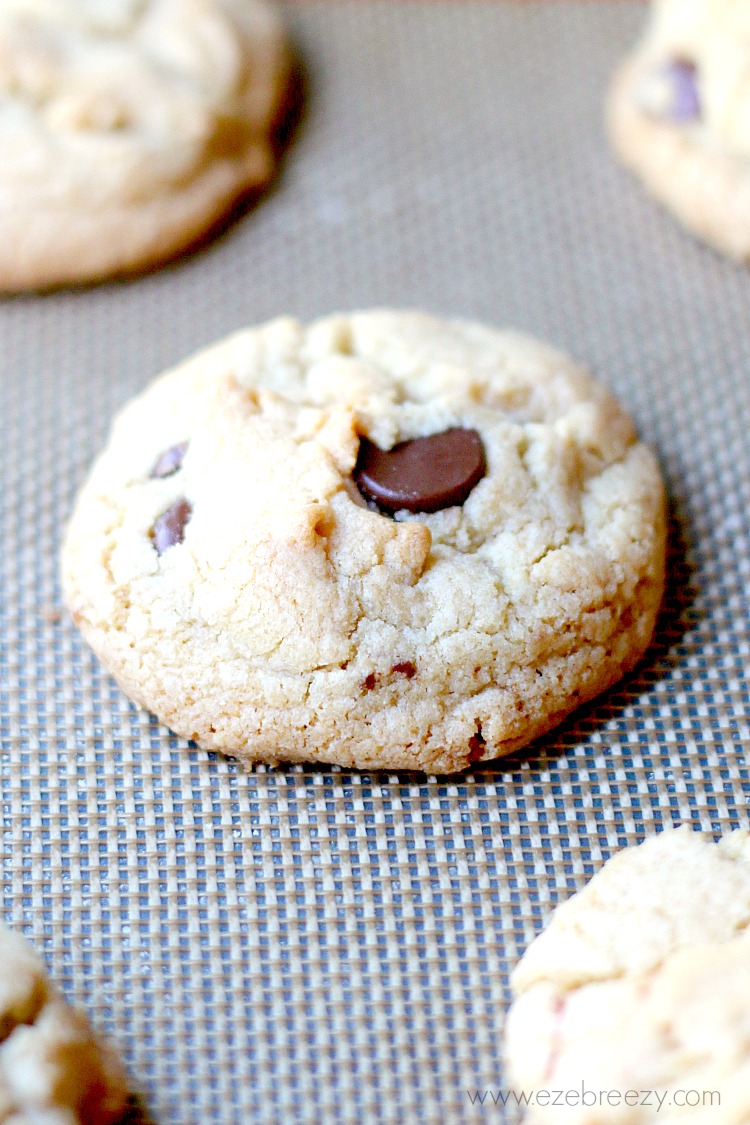 After making a few batches of cookie dough (okay – it was about 5 batches), I found the PERFECT combination of ingredients that resulted in the most delicious, soft chocolate chip cookie with a perfectly soft, chewy center and golden crispy edges.
For this recipe, you are going to melt the butter instead of using the creaming method.  It seems to add a little extra moisture that gluten free flour blends just love so much.   The melted butter combined with a higher ration of brown sugar to granulated sugar produces the perfect chewy texture we all love in a chocolate chip cookie.  And that added touch of brown sugar also ensures your cookie will have that buttery, toffee-like flavor.
Now this is a cookie made for dunking!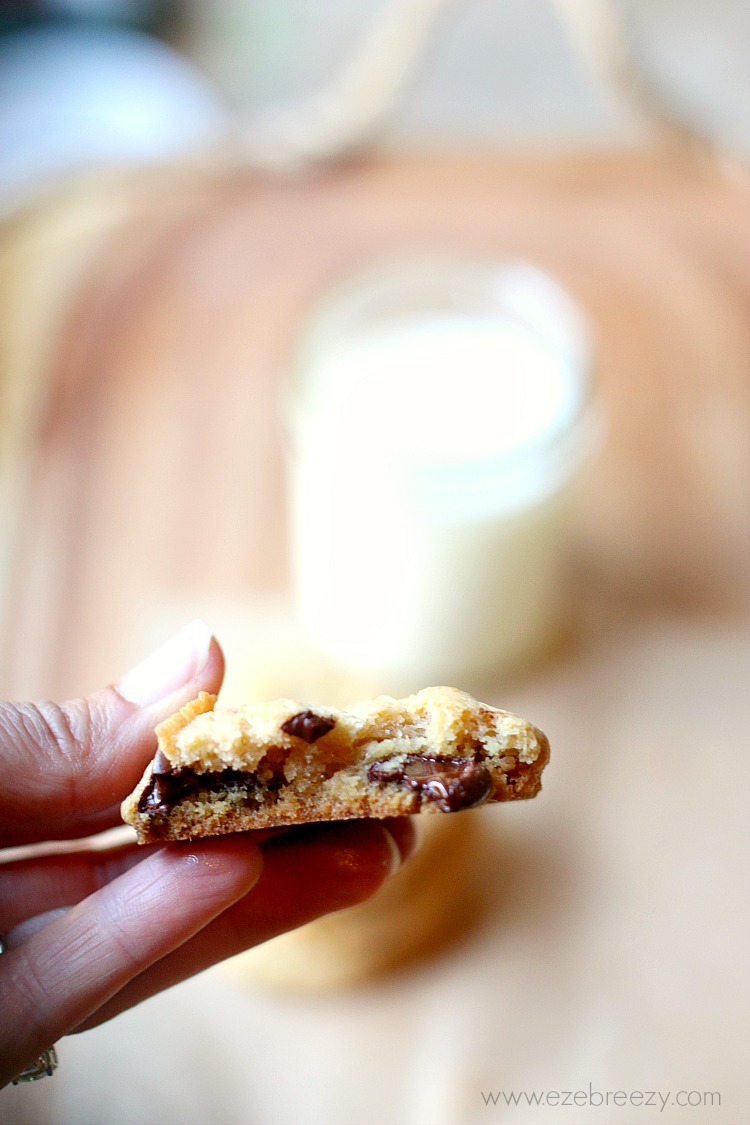 Always start with room temperature ingredients.  Why room temp ingredients?  Sally's Baking Addiction explains it best:
When at room temperature, eggs, butter, and other dairy ingredients form an emulsion which traps air. While baking in the oven, that trapped air expands and produces a fluffy baked good.  Read the full article HERE.
Measuring your ingredients properly is one of the most important parts of baking, so be sure that you don't scoop!  The best way is to spoon your flour blend into your measuring cup and and level off to top.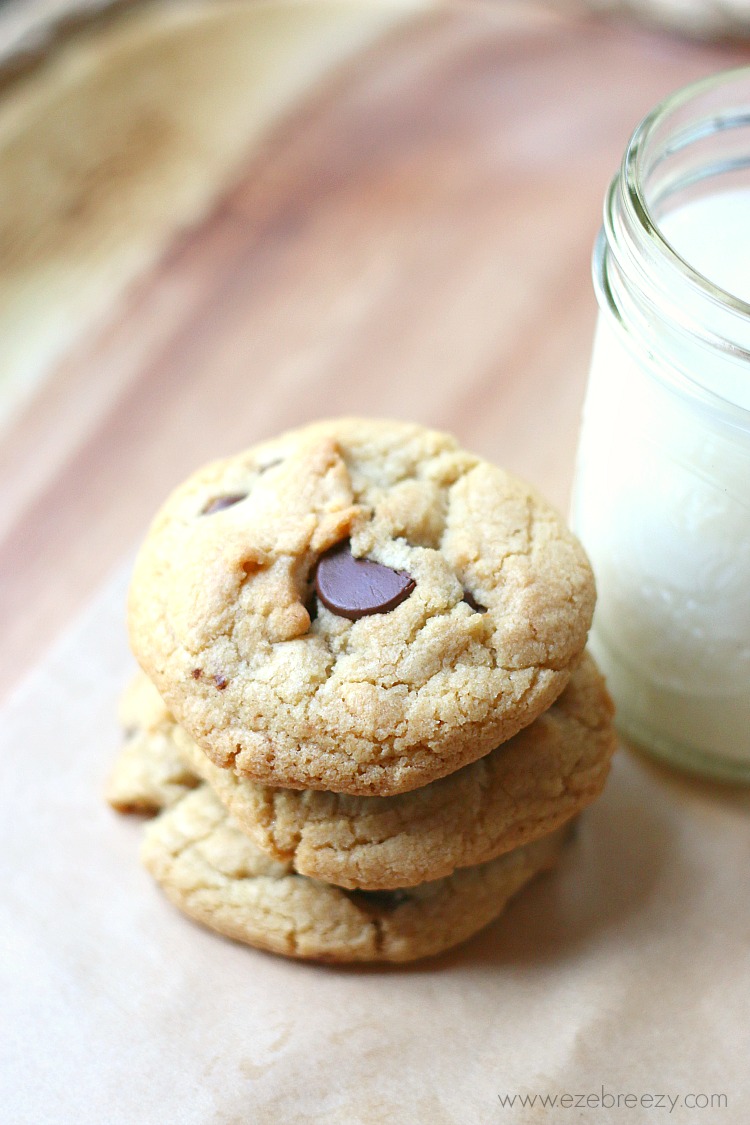 Do you have a cookie scoop?  If not, here is one that I love.  It scoops 1.5 tablespoons of dough and yields about a 2-3/4 inch cookie.  Cookie scoops are awesome because they save you time, keep your hands clean, keep your cookie sizes uniform AND are available in a variety of sizes so you can enjoy a huge bakery-size cookies or scale things down a bit with a smaller version.
Ready to get started?  You will not be disappointed.  And if gluten free isn't your thing, then check out my family's all-time favorite chocolate chip cookie recipe here.
Let's get baking!  I hope you enjoy:)

The Best Soft Chocolate Chip Cookie Recipe [Gluten Free]
Author:
Khrista @ ezebreezy.com
Prep time:
Cook time:
Total time:
Ingredients
2¼ cups all-purpose gluten-free flour blend
¾ tsp. xanthan gum (exclude is your GF flour blend already has xanthan gum added)
1 tsp. baking powder
1 tsp. salt
2 Tbsp. whole milk
10 Tbsp butter, melted
1 cup brown sugar (packed)
½ cup granulated sugar
1 Tbsp. vanilla extract
1 egg + 1 egg yolk (room temp)
2 cups semi-sweet chocolate chips
Instructions
Set eggs out to get to room temp,
In a medium bowl, combine gluten free flour blend, xanthan gum (if not already in your gf flout blend), baking soda and salt.
In bowl of stand mixer, pour in melted butter, granulated sugar, and brown sugar. Mix on medium using the paddle attachment until combined.
Add vanilla extract, eggs, and milk, mixing until mixed thoroughly.
Reduce mixer speed to low and slowly add your bowl of flour mixture until combined.
Add chocolate chips and stir in by hand using a spatula or large spoon.
Cover mixing bowl with plastic wrap and chill in refrigerator for minimum 2 hours.
to bake, remove bowl from refrigerator and set on counter for about 10 minutes to soften for easy scooping.
Preheat oven to 375 degrees.
Line your cookie sheet with a silicon liner or parchment paper.
Using a cookie scoop, scoop the cookie dough onto baking sheet spacing about 2 inches apart.
Bake cookies for 10-12 minutes at 375 degrees. Do not over bake. Remove cookies from oven when the edges are golden brown and the centers look slightly wet. Cookies will continue to cook as they cool. Make time adjustments according to your liking - leave in a little longer if you like a crispier cookie.
Cool cookie on baking sheet for a few minutes before transferring to cooling rack.
Pin For Later…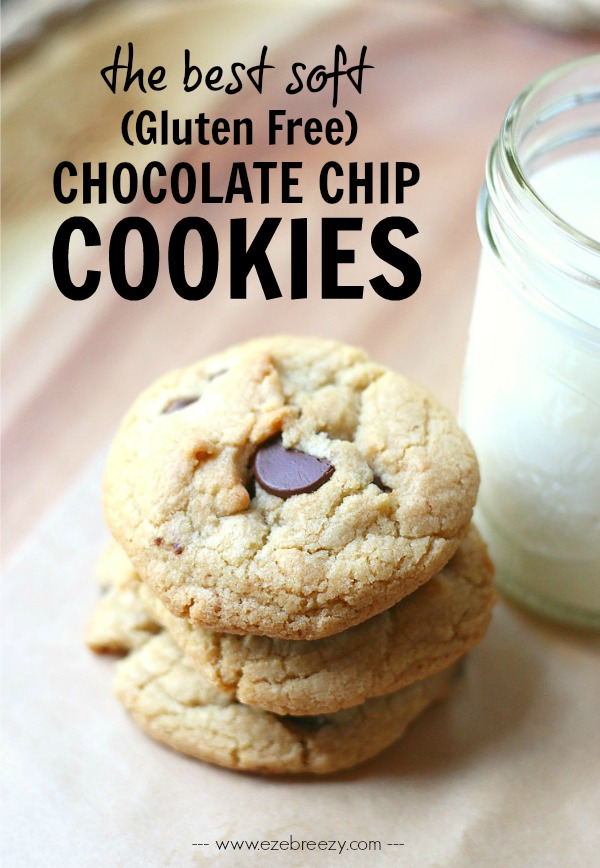 You Might Also Like…