Mmmmm…this Light and Crispy Paleo Waffle Recipe is simply breakfast bliss!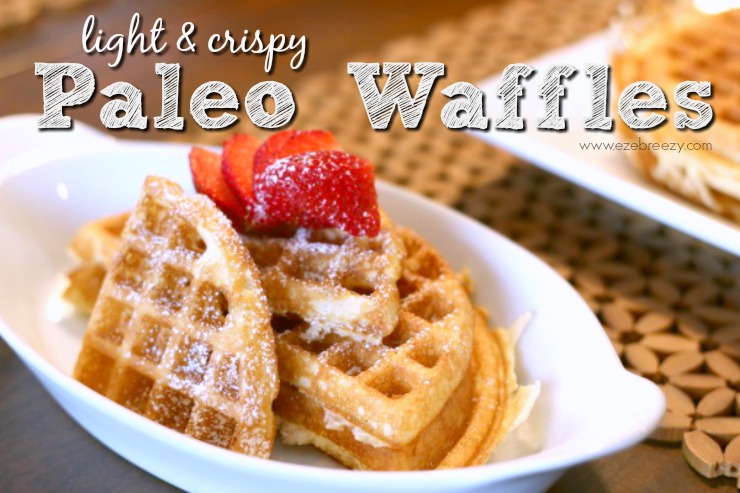 Let's be honest.  There is just nothing better than a light, fluffy, yet crispy, ginormous waffle for breakfast.  Sure, some might say there are other options out there, but…are there really?  Well, at least not according to the three people that live in this house!
My family has a Sunday morning breakfast tradition – WAFFLES.   Something about that light and fluffy goodness with those little tiny square pockets to hold all that sweet golden maple syrup.  AMAZING!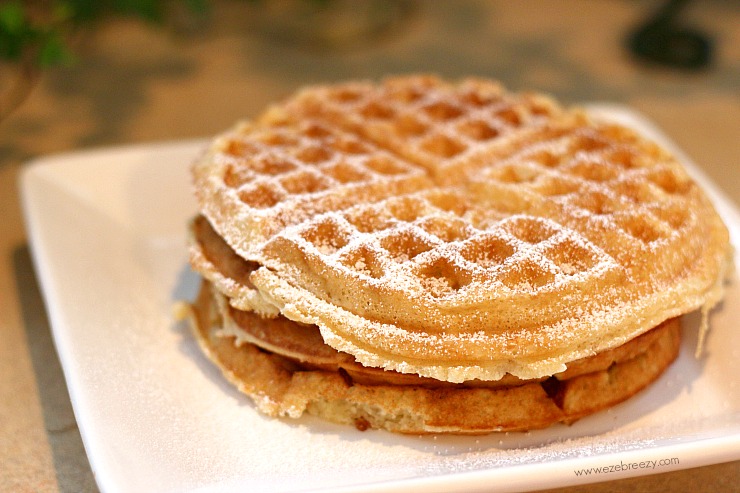 Our waffle mornings had to take a slight detour a few months ago when I realized that gluten and I really didn't get along all that well.  It was a tough breakup.  But I'm over it and have been enjoying finding new ways to bring some of the foods I love back into the kitchen.  Waffles were definitely high on the list.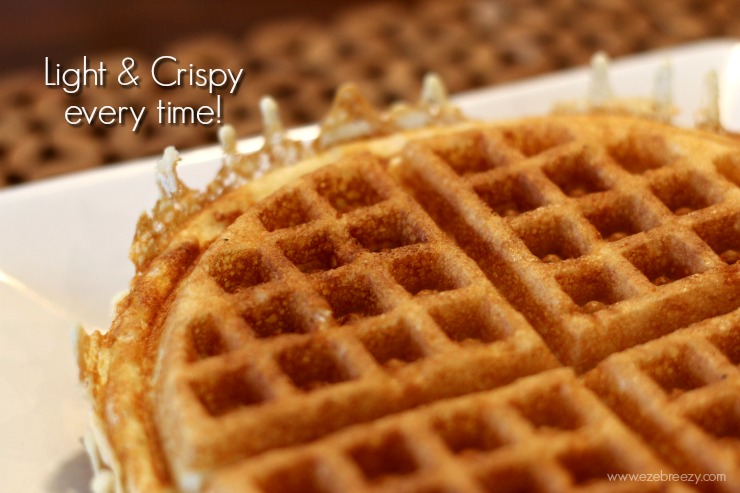 Making a grain-free, dairy-free waffle was a bit of a challenge for me.  Rice flour, coconut flour, almond flour, tapioca starch, potato starch.  It was enough to make my head spin! Each is so drastically different and having their own quarks.  I started off with this waffle recipe and then made a few changes to suit our family.  I think I have found the perfect combination of ingredients that make an amazing light and crispy paleo waffle recipe.  I hope you enjoy!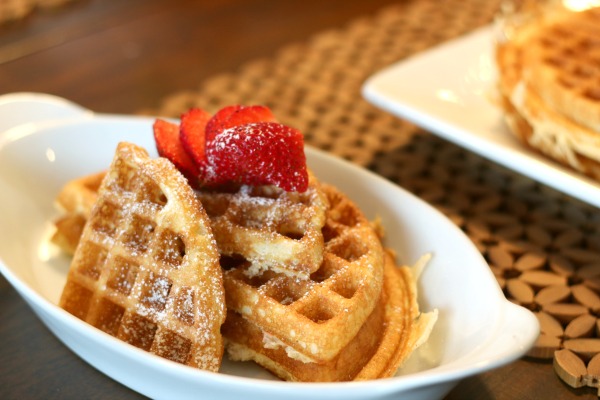 Here's a quick cleaning tip:  Put a large plate under your waffle maker.  It will catch any overflowing batter and make clean-up a breeze!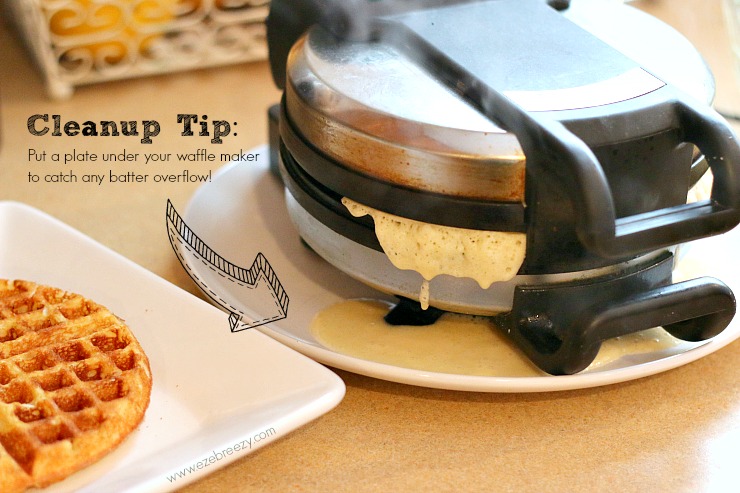 Light and Crispy Paleo Waffle Recipe
Prep time:
Cook time:
Total time:
Ingredients
1⅓ cups brown rice flour
⅔ cup tapioca starch
4 teaspoons baking powder
½ teaspoon kosher salt
1¾ cups unsweetened almond milk
2 eggs, separated
⅓ cup ghee, melted
Instructions
Preheat the waffle iron per manufacturer's instructions.
In a large bowl, combine all dry ingredients.
In medium bowl, using a whisk or an electric mixture, beat the egg yolks, ghee and almond milk until foamy (about 1 minute).
In a small bowl, beat the egg whites with an electric mixer until stiff peaks form. (Honestly, this step is ESSENTIAL to an amazing waffle no matter what your other ingredients may be...so be sure you don't skip it)
Slowly, pour the milk mixture into the dry ingredients. Stir until just combined.
Using a spatula or wooden spoon, gently fold the egg whites in the batter until all the white foam disappears.
to cook your waffles, brush the waffle iron with ghee and pour about ¾-1 cup of batter per waffle.
Close the iron and bake according to instructions.
Remove and serve with maple syrup and ghee.
Pin For Later…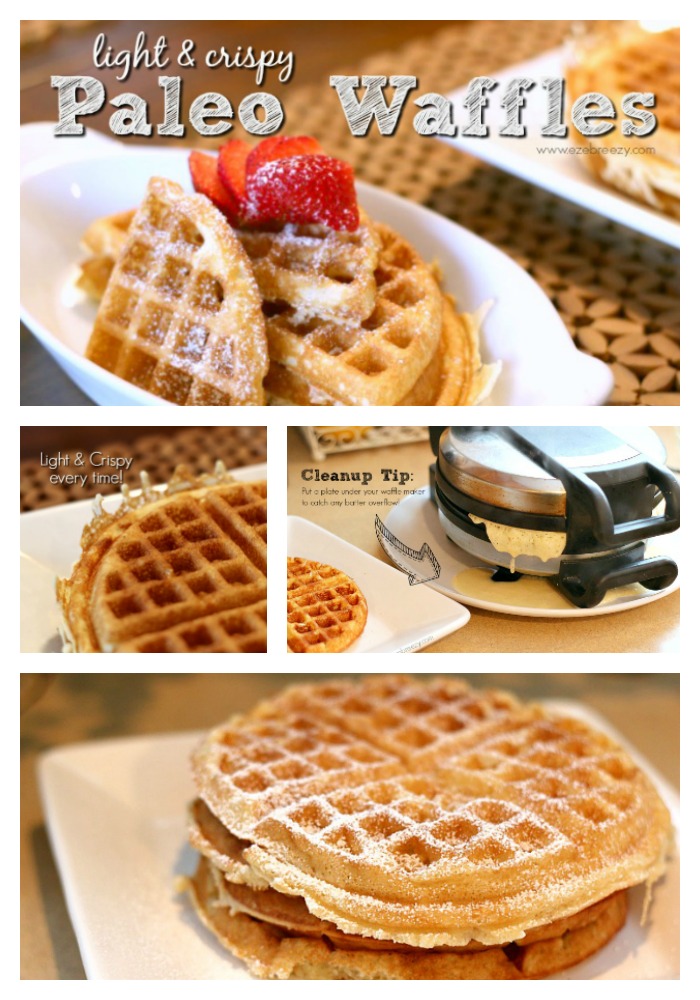 ---
You Might Also Enjoy These Recipes…