These Sprinkle Cake Mix Cookies are super soft and chewy, busting with sprinkles and oh-so yummy!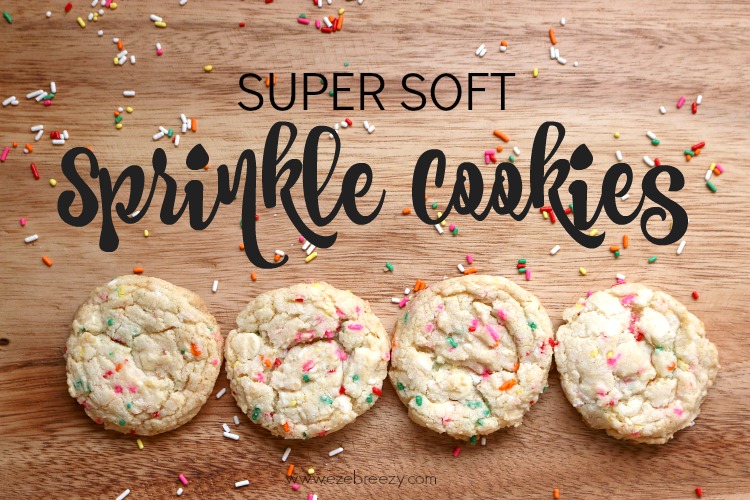 Have you ever made cookies using boxed cake mix?  I absolutely love making cookies this way; they are so simple to make and taste incredible.  Perfect for any occasion.
Last summer I whipped up a batch of 4th of July Sprinkle Cake Mix Cookies and I think they were gone before the plate made it to the dessert table.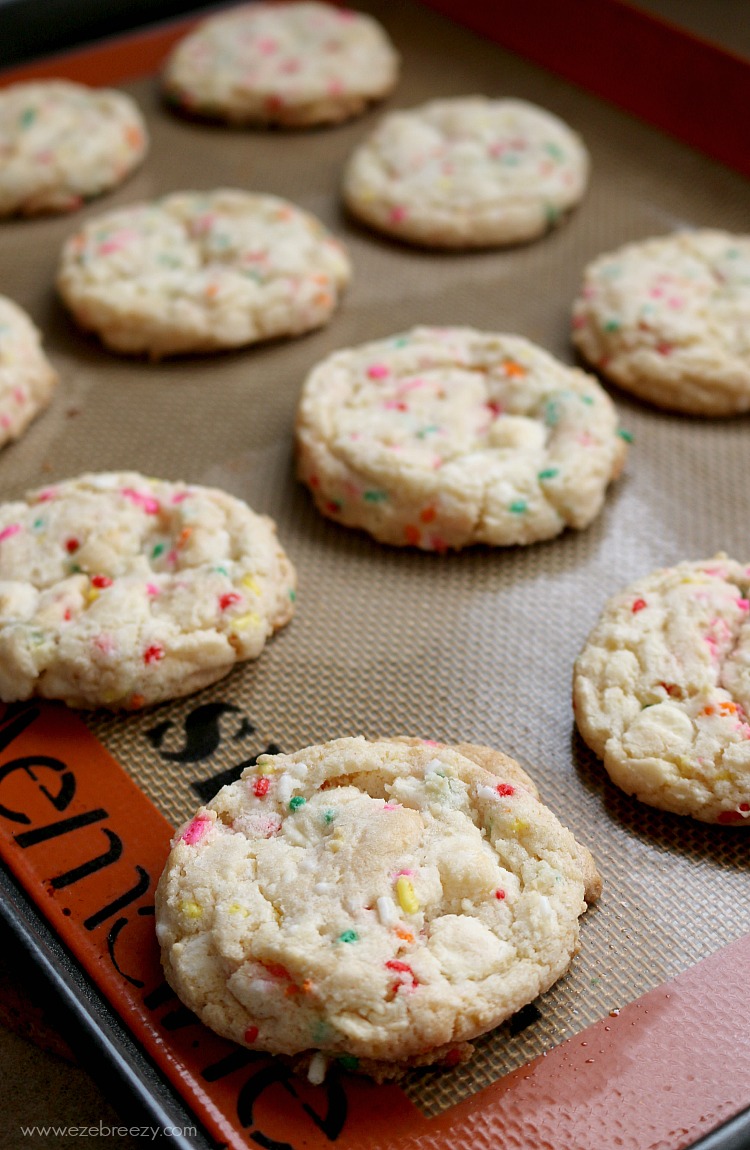 Soft and chewy.  A buttery mixture of cake mix, sprinkles and white chocolate.  The perfect combination all in one yummy cookie.  Yay for cake mix cookies!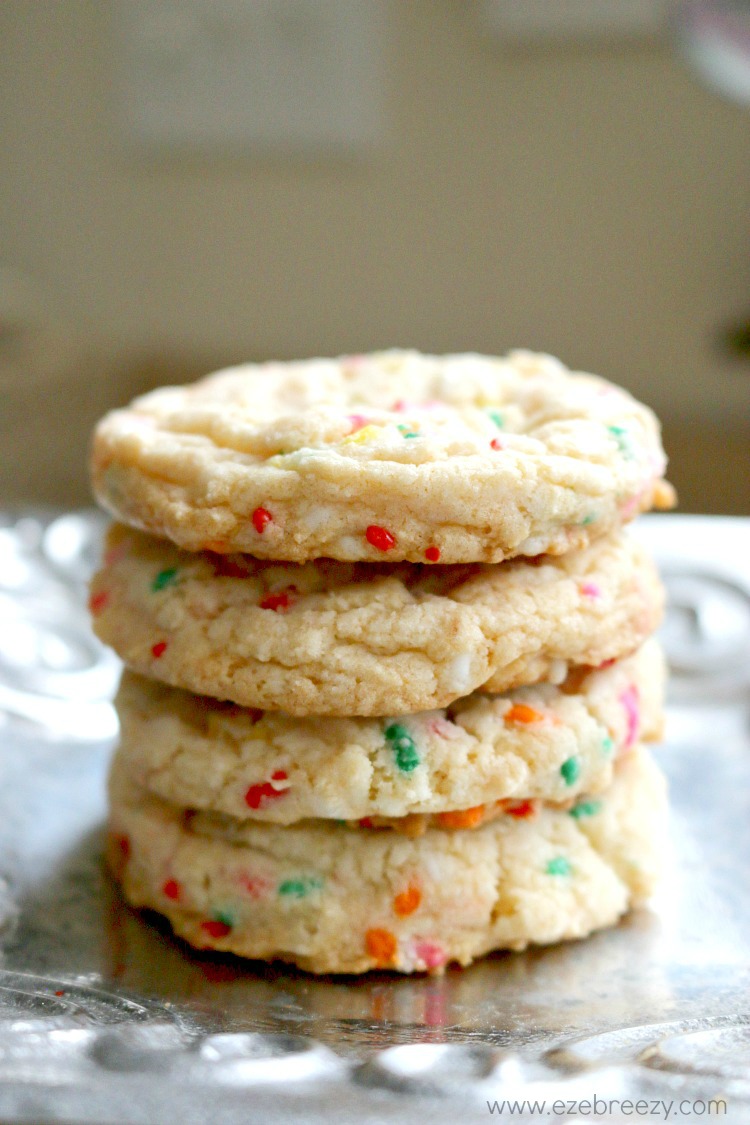 I probably mix up a batch of these cookies once a month.  They are so quick and easy to make and something that I bake with my eight year old daughter.  We love baking together in the kitchen, especially cookies.  My absolute favorite are these sinful chocolate chip cookies.  They are perfect with a huge glass of cold milk or as the foundation for a delicious cookie ice cream sandwich.  AMAZING!
I think these Sprinkle Cake Mix Cookies would be a great fit for homemade cookie ice cream sandwiches too!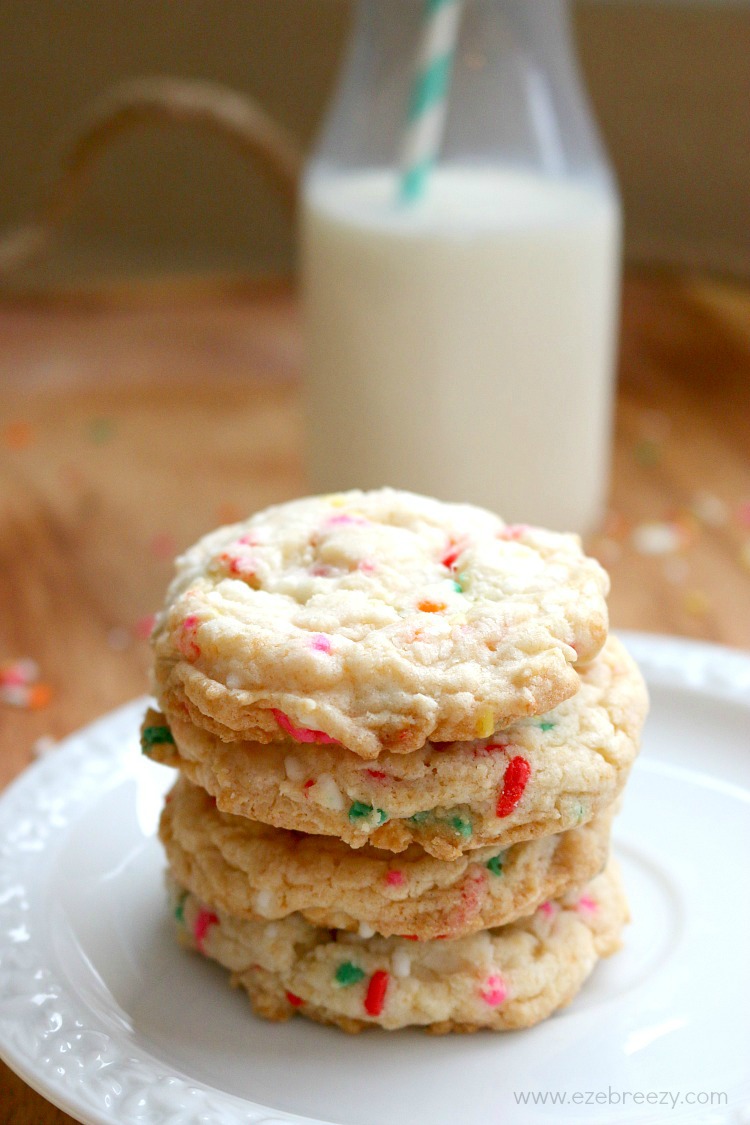 Don't forget, this recipe can be made for any occasion; just mix up your sprinkle colors OR try using a different cake mix flavor like strawberry or lemon!  My mouth is watering already!
Happy baking🙂
Sprinkle Cake Mix Cookies
Prep time:
Cook time:
Total time:
Ingredients
1 box yellow cake mix
2 eggs, beaten
1 stick butter, melted
1 tsp vanilla extract
⅓ cup sprinkles
1 cup white chocolate chips
Instructions
Preheat oven to 350°F
In a large bowl, combine cake mix, white chocolate chips and sprinkles. Set aside.
Melt stick of butter in a microwave safe bowl.
Pour melted butter over top of dry ingredients.
Add beaten eggs and extract. Mix thoroughly.
Chill cookie dough in refrigerator for 15-20 minutes.
Roll the cookie dough into a small ball. (I used a 2 Tbsp cookie scoop) and place on a line cookie sheet.
Bake for 11-13 minutes. Remove from oven and allow to cool on baking sheet for 5 minutes before transferring to cooling rack.
Enjoy!
Notes
Store cookies in an air-tight container. Cookies will stay fresh and soft for up to 3 days.
For more great recipes and ideas – click here to  follow ezeBreezy on Pinterest!  
---
Pin It For Later…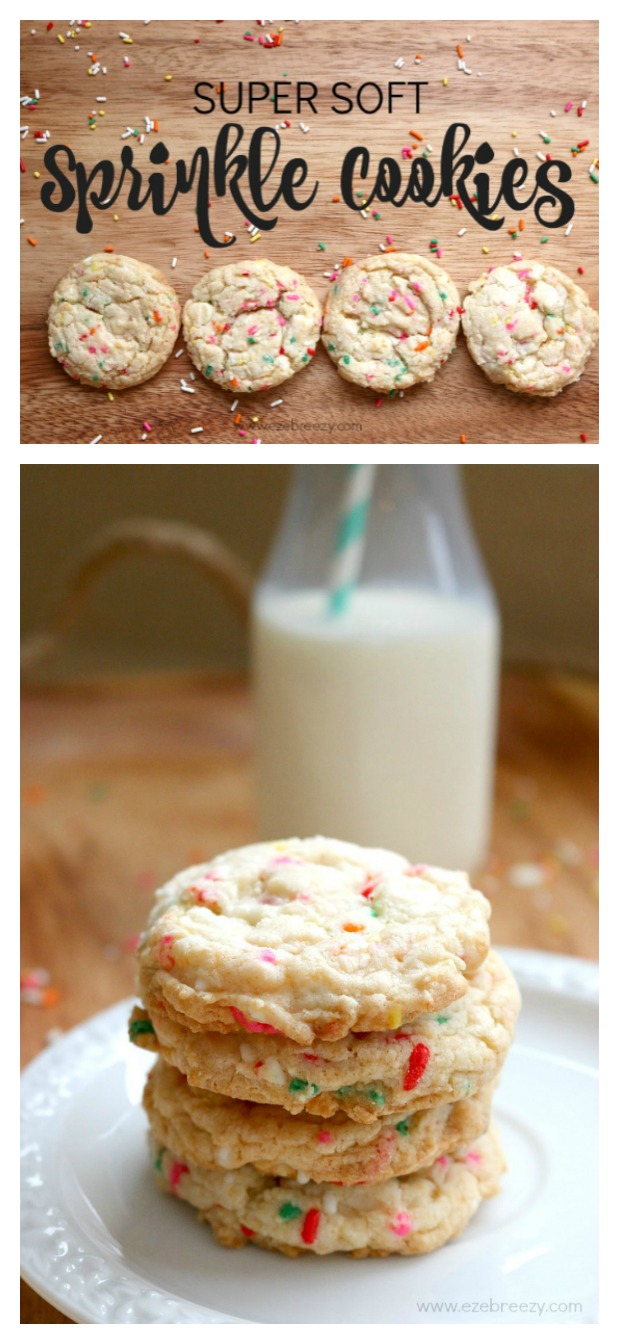 Be sure to check out these yummy recipes too!