I am so excited to share this Moana Birthday Cake with you today!  It is a blast to make and the perfect birthday cake for any Moana fan.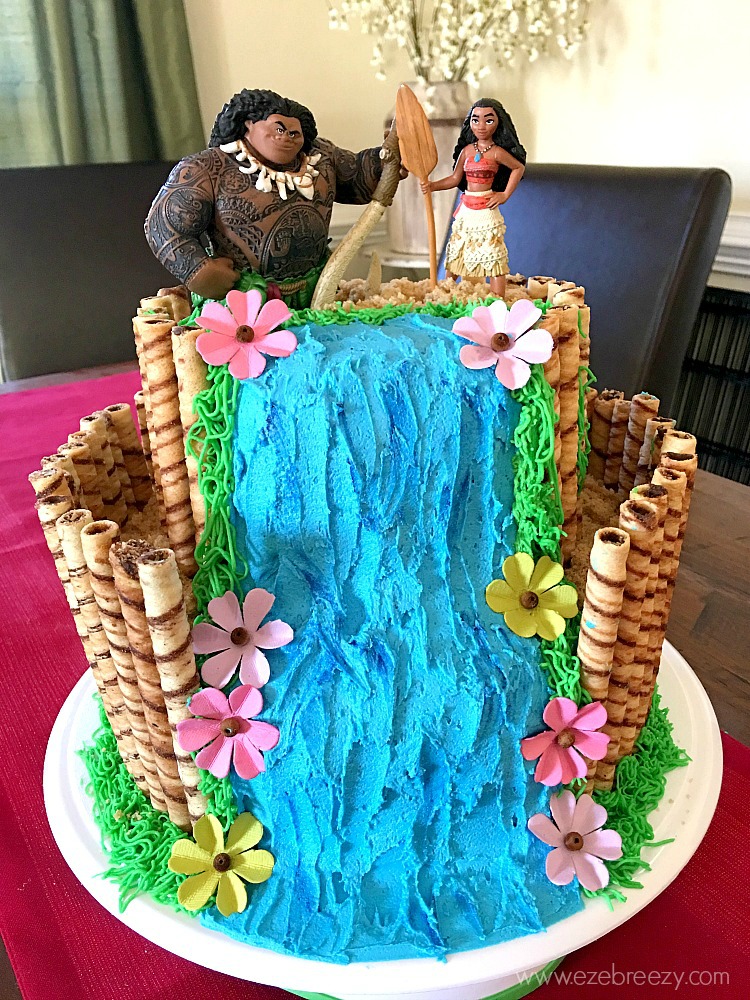 We recently celebrated our sweet girl's 8th birthday.  I started making her birthday cake when she turned one and it's become a fun family tradition.  I absolutely love it!
This year, our daughter is all about Moana, so a Moana Birthday Cake was a must for birthday #8!
There are so many things I love about Moana; she's strong and brave, she shows us that it's important to never give up.  Moana is smart and resourceful and she believes in herself.  That's the kind of role model I like to see for little girls these day:)
This post contains affiliate links meaning at no additional cost to you I may get a percentage of the sale if you buy through these links. Thanks for your support!
With Moana on my mind, my daughter and I set out for some inspiration.  After searching and searching, we found the perfect cake here.  I just love the look of this cake with it's cascading waterfall and Moana characters perched up on the top – it was just what I was looking for.
I am happy to report that this cake is actually simple to put together and a design anyone can tackle, no matter how much cake decorating experience you have.
Here's what you'll need to make this Moana Birthday Cake:
2 3 boxes of cake mix (updated: 1 box for 2-8″ rounds & 2 boxes for 4-6″ rounds — you will use 3 of the 6″ rounds and freeze the 4th)
5 cups of buttercream
Blue and green icing color
Grass icing tip
3 cans of pirouline cookies
Brown sugar
Accent flowers
Set of Moana characters (I used these)
UPDATE (8/9/17) I've received so much wonderful feedback on this cake (thank you), and  I wanted to take a minute and add an update that address a question that have been emailed to me on a few occassions. 
One of the biggest questions asked was about the number of layers in the cake.  There are actually 2 – 8″ round cake layers on the bottom and 3 – 6″ round cake layers for the top .  You will use 1 box of cake mix to make the 2-8″ cake rounds & then the other 2 boxes will make 4-6″ cake rounds.  You will only use 3 of the 4 – 6″ rounds for this Moana cake.  Just freeze that un-used 4th cake layer to use another day!  If you are making a third layer for the top tier, slide some dowels rods (aff link) through the top of cake for support.  I also use cardboard cake rounds on the bottom of each cake tier.  I hope this helps.  Please feel free to keep the emails coming…I love hearing from you:)
And here's the best part about this cake…you do not have to be a master cake decorator.  The icing doesn't need to be perfect because you're going to cover it all up with those tasty pirouline cookies.  I mean look at the rough job on this icing…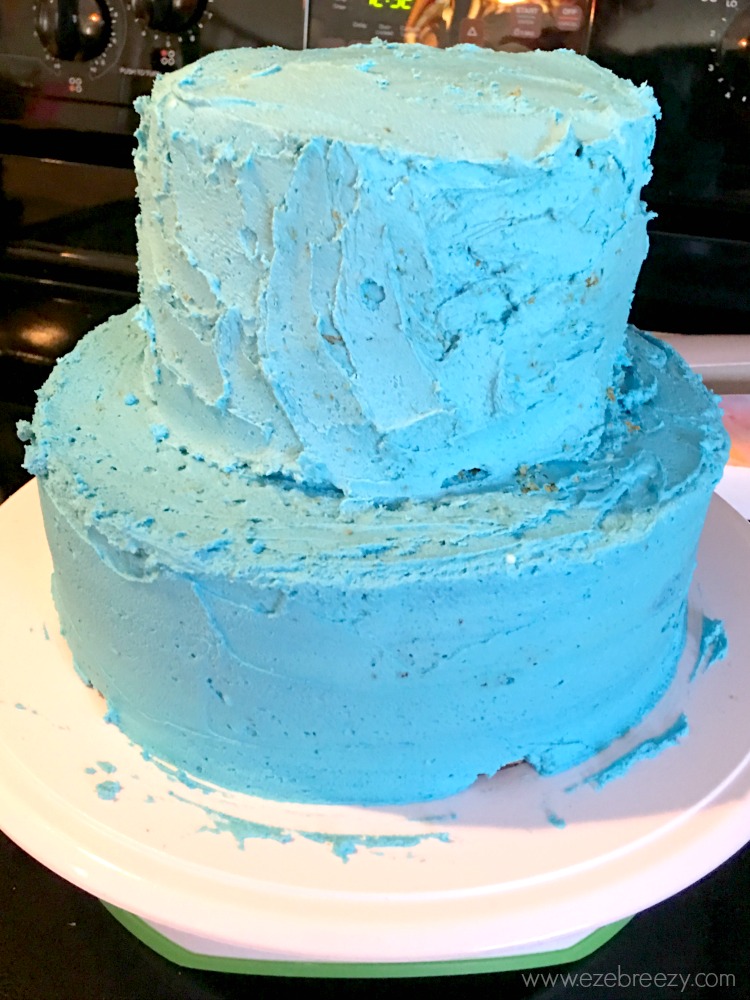 Using pirouline cookies around the perimeter of the cake is the perfect way to hide any imperfections and gives your Moana Birthday Cake the perfect festive Moana feel.
If you look closely at the top of the 8″ cake, you'll see that I added some "sand" (brown sugar) to hide the top of the blue icing.   The original cake design has accent flowers made out of gum paste or maybe fondant.  To save time, I used some paper flowers I already had on hand! They worked perfectly!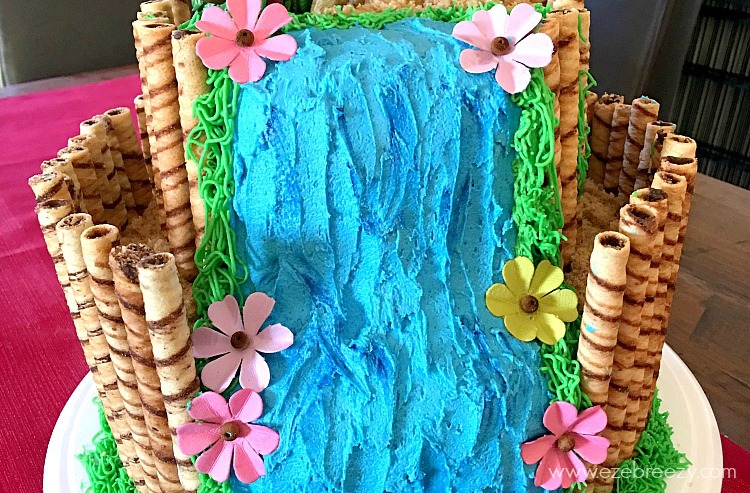 The waterfall was my sister's handy work! She built up the icing and then used the flat part of a spatula to create the water effect.  To give the water some color dimension, just add a few drops of darker blue coloring in random spots on the waterfall and use your spatula to blend the color.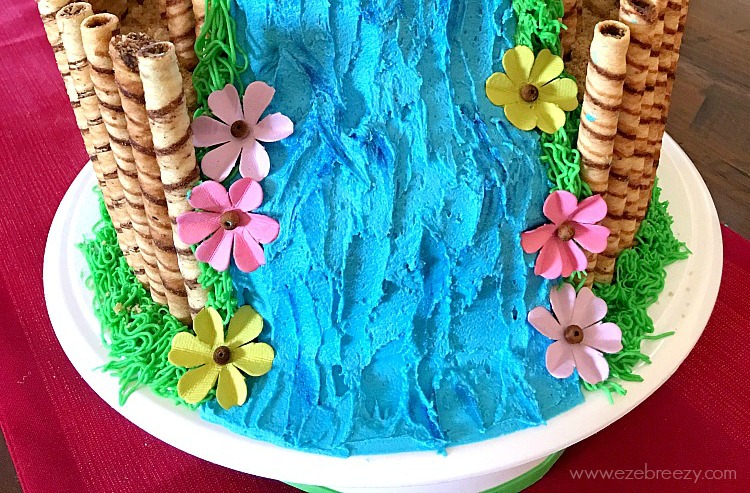 To finish things off, I sprinkled some more "sand" (brown sugar) on top of the cake and then placed this Moana Figurine Set on top of the sand.  It was the perfect topper for this Moana Birthday Cake and even gives the birthday girl something to play with when the party is all over!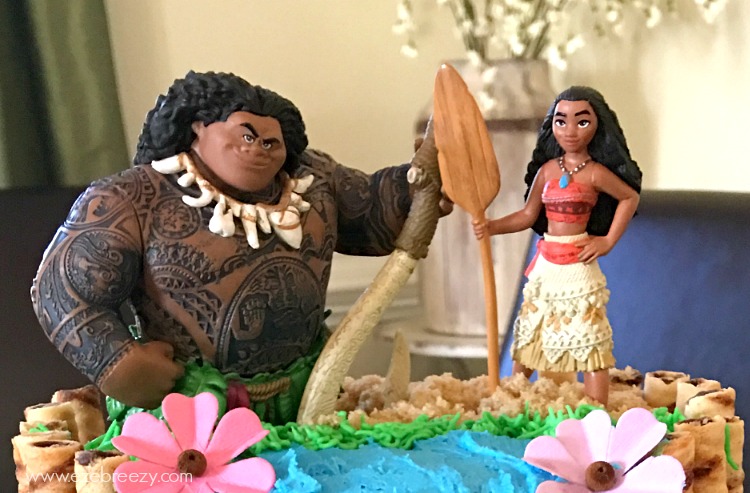 No matter your cake-making skill level, definitely give this Moana cake a try.  You can bake the cake from scratch or use box mix – either will work.  And remember, you don't have to be meticulous about your icing work because those pirouline cookies certainly cover the majority of your icing.
This Moana Birthday Cake will certainly put a HUGE smile on your birthday girl's face!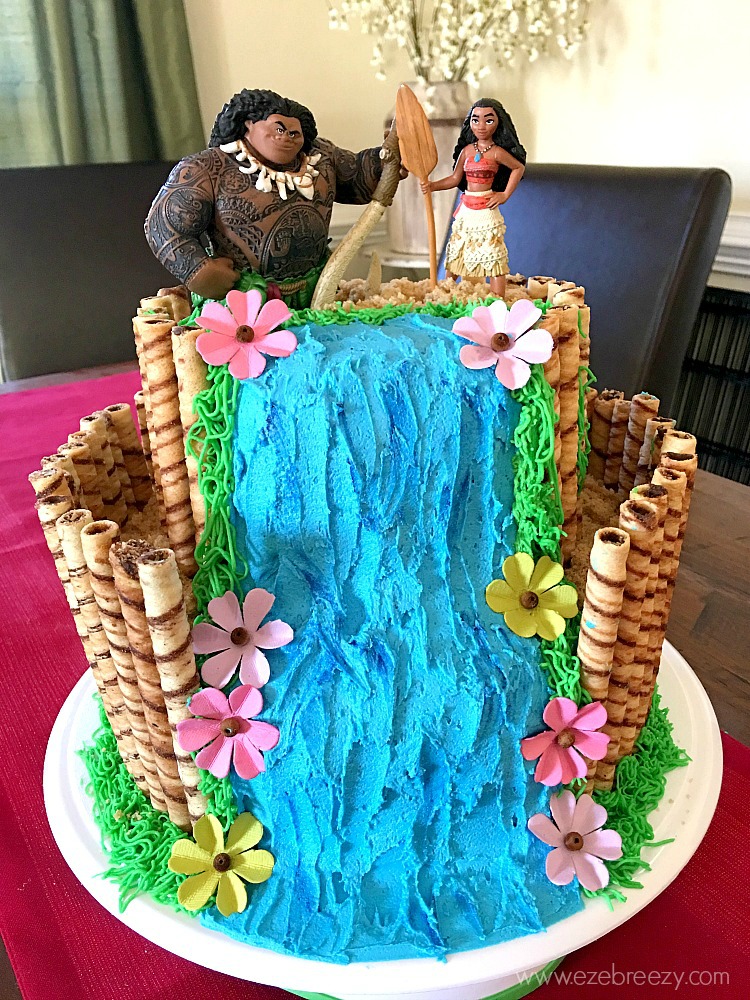 Pin It For Later…