There are just some things that immediately take me back to being a kid and my Mom's Pumpkin Bread Recipe is at the top of the list.   I make this recipe all the time for my family.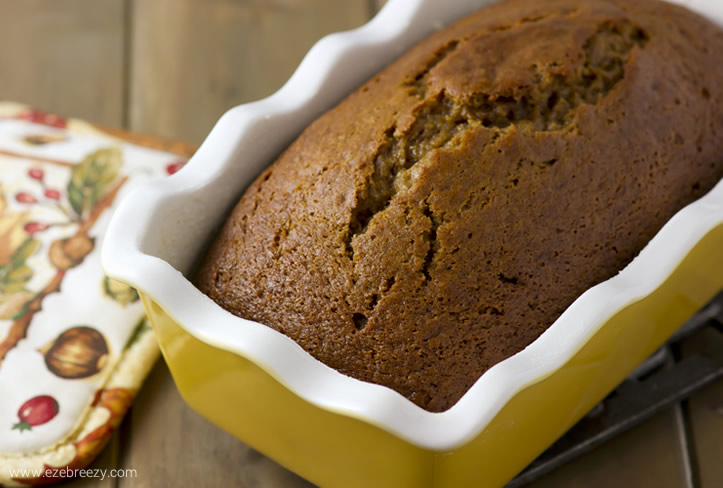 This post contains affiliate links.
So much so, that the recipe card was getting extremely tattered and I had to photocopy the original!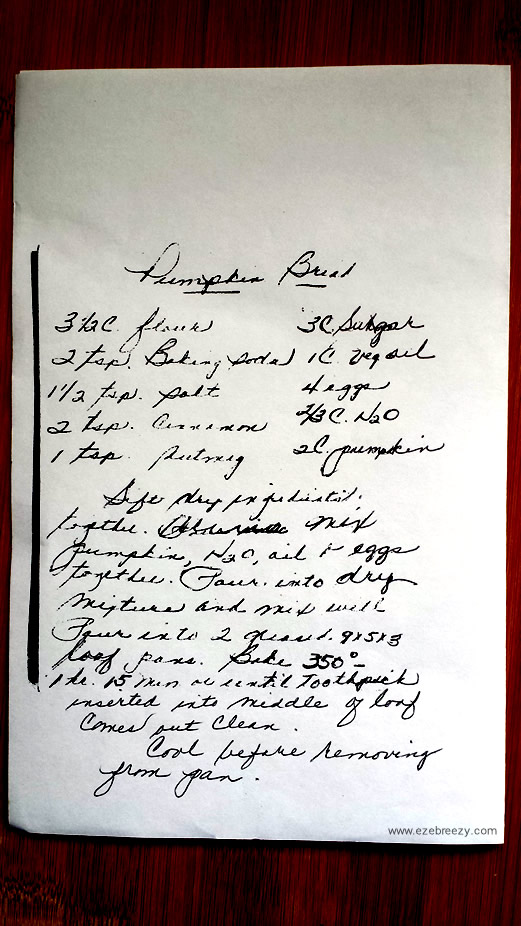 My mom's pumpkin bread recipe is SO easy to make – mix up the ingredients in a bowl, toss it in the oven for about an hour, and in no time, these two yummy loaves will fill your kitchen with the sweet smell of spicy pumpkin goodness.  I promise you'll love it!
Oh and I have to share my FAVORITE loaf baking pan.  It's a ceramic pan from Good Cook.  You can read more about it here.  I love this pan because nothing sticks to this pan…NOTHING!  It's the perfect loaf pan for any type of bread you are baking, including this yummy Pumpkin Bread.  Happy baking!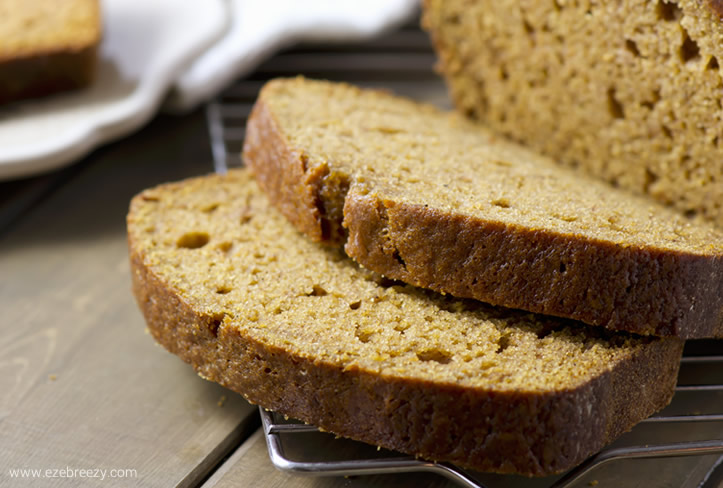 Mom's Pumpkin Bread Recipe
Prep time:
Cook time:
Total time:
Ingredients
3½ cups flour
2 teaspoon baking soda
1½ teaspoon salt
2 teaspoon cinnamon
1 teaspoon nutmeg
3 cups sugar
1 cup vegetable oil
4 eggs
⅔ cups water (two thirds of a cup)*
2 cups pumpkin
Instructions
In a large bowl, sift dry ingredients together. In a separate bowl, mix pumpkin, water, oil and eggs together. Pour pumpkin mixture into dry ingredients and mix thoroughly.
Pour into 2 greased 9x5x3 loaf pans.
Bake at 350 degrees F for 1 hour and 15 minutes or until toothpick inserted into the middle of loaf comes out clean.
Cool before removing from pan.
Notes
*Strangest thing...I couldn't get ⅔ (two thirds) to display in my recipe. Hmmm...so thats why you see if spelled out as well. Hopefully this will help minimize any confusion:)