Going to Walt Disney World Resort doesn't have to break the bank.  There are a ton of FREE things you can get at Disney World for the whole family to enjoy – you just need to know where to look.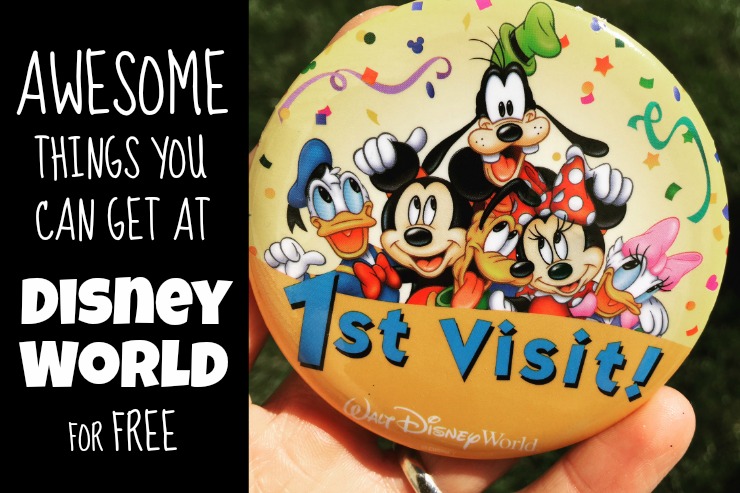 When I started planning our first trip to Disney, I felt a little overwhelmed.  I already wrote about how stay sane while planning a trip to Disney World.  Be use to check out this helpful list of vacation planning tips.
I was able to plan out trip during a free dining promotion which helped a bunch with cost, but I remember searching for other ways to save money.  I was AMAZED to find out about all the fun freebies and perks available to guests!
I am happy to share this list of our favorite FREE things you can get at Disney World:
Fireworks shows – There is nothing like a fireworks show at Disney!  All other fireworks displays pale in comparison.  There are several opportunities to catch a show and I high recommend that you put it high on your To-Do List!  Here's a great list of the

Best Magic Kingdom Fireworks Spots

.  Be sure to check it out!
Celebration Button – This is a great freebie.  Disney offers celebration buttons for almost any occasion—birthdays, family reunions, engagements, weddings, or anniversaries. Even if you're not celebrating one of those specific events, you can pick up an ordinary "I'm celebrating!" button, and write in your own special event.
Autographs from characters – One of the most sought after freebie available at every Disney park is the Disney character autograph.  From Anna & Elsa to Chip n Dale, Disney is full of characters ready and willing to give their autograph.  Whether you buy a autograph book or create your own, leaving Disney with a book full of character autographs is a treasured memory for a lifetime.
Ghiradelli Chocolate Samples – Ghiradelli has a chocolate shop located in Downtown Disney where they regularly offer free samples of chocolate.  Who can pass up a little free chococlate!
Outdoor Movies Under The Stars – Many Disney World resorts play some of your favorite Disney movies for free.  Each resort will have a schedule of movies available so be sure to check with the front desk.   You can also learn more here.
Bonfire & marshmallows – There are several resorts at Disney World that offer a family-fun evening around the campfire.  The following locations offer complementary campfire activities: Disney's Animal Kingdom Lodge, Disney's Animal Kingdom Villas – Jambo House, Disney's Animal Kingdom Villas – Kidani Village, Disney's Beach Club Resort, Disney's Boardwalk Inn, Disney's Caribbean Beach Resort, Disney's Contemporary Resort, Disney's Coronado Springs Resort, Disney's Grand Floridian Resort & Spa, Disney's Old Key West Resort, Disney's Polynesian Village Resort, Disney's Port Orleans Resort – French Quarter, Disney's Port Orleans Resort – Riverside, Disney's Saratoga Springs Resort & Spa, Disney's Yacht Club Resort, The Cabins at Disney's Fort Wilderness Resort, The Campsites at Disney's Fort Wilderness Resort.  Be sure to stop by one of these resorts for a roast marshmallows next to the fire.






Free Drawing Classes – This was one of my daughter's favorite freebies!  Drawing classes are available at either Hollywood Studios or the Art of Animation Resort.   Artists teaching the class have been known to give their drawing away to a lucky attendee – usually someone who wins a little Disney trivia session.   Your drawing creates one of the best Disney souvenirs.  Some artists even give their drawing to a member of the class, generally through correctly answering a Disney trivia question.
Free Ice Cold Water – Never pay for water again! Stop by any location that has a soda fountain and get some free ice cold water.  They will even give you a free normal size cup (just like the kind for soda) for free with ice. I typically take an empty bottle of water and go straight to any place with a soda dispenser.
Dinning under the age of 3 – If you have a little one at Disney under the age of free, they can eat for free off a parents plate at the buffets or a family style restaurants.  This is a great way to save a little money on your trip.
Pin Trading – If you haven't jumped on the pin trading bandwagon then you need to!  You can purchase pins in each Disney park or they are also available on online.  Then when you can approach a cast member wearing a lanyard and trade one of your pins for one of theirs that you really like!  It really is a fun free activity.  Learn more about Disney Trading Etiquette here.
Club Cool – Club Cool is located in Epcot and is THE place to go for samples of different sodas fro all around the world.  This is a perfect stop on a hot sunny day.  Be sure to check out the Beverly, a Coca cola beverage from Italy.  It has a very distinct taste and well….let's just say isn't for everyone.  Be sure to have the camera ready to capture the moment!
Stickers – You will find Cast Members throughout the park giving out stickers of Disney characters.  It's a fun little hunt to see how many you can collect during your trip.
Hair Confetti – This is such a great freebie!  Harmony Barber shop on Main street in the Magic Kingdom will sprinkle your child's hair with confetti and pixie dust for free!
These 14 free things you can get at Disney World just scratches the surface on the freebies.  What is your favorite freebie from Disney?
Traveling to Disney? You Might Like…