We have a bit of a hummus obsession in our home and this 5 Minute Roasted Red Pepper Hummus recipe is part of that addiction.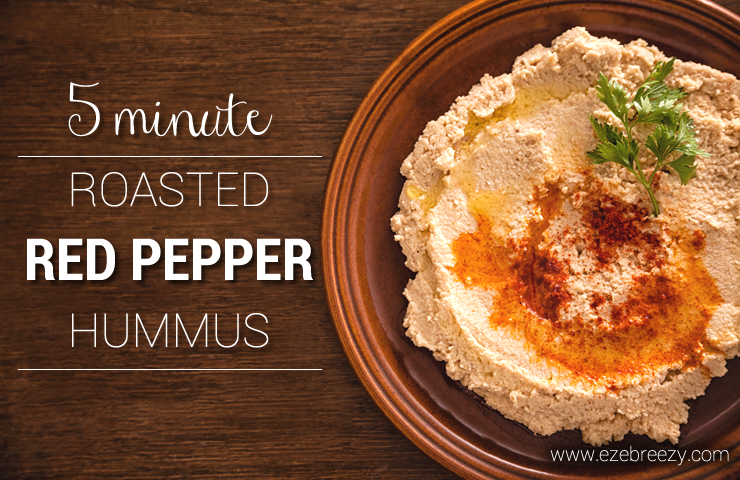 My daughter jokes that she'll dip ANYTHING in hummus because she loves it so much – especially roasted red pepper hummus.  And I must admit, she has put together some crazy combinations.  Many of which did not go over well – such as her idea that a cupcake would taste "fabulous" dipped in hummus.  But hey, if she wants to spread some healthy hummus spread on that sweet treat I am not about to stop her from trying it out.
Hummus tastes great as a dip, spread on a sandwich or even used to make a delicious salad dressing.  No matter how us spread it, hummus is really the ultimate healthy snack to keep in the fridge – full of fiber, protein and heart-healthy fats.
Our love for hummus led me to start experimenting with making hummus at home.  It's actually much easier to make than I thought it would be.  Since roasted red pepper hummus is our favorite, I thought it was the perfect place to start.
The base of hummus is pretty typical – chickpea/garbanzo beans and tahini.  Tahini is a sesame paste that can be found at your grocery store or other specialty stores such as Old World Market.  If you have a hard time finding tahini in your area, you can order it online at Amazon or try a substitute.  Although I have never tried these options, I have seen recipes the suggest using sunbutter or even natural peanut putter (only peanuts, oil and salt) as an alternative to tahini.
After messing around in the kitchen I have found the perfect combination of ingredients that result in an amazing creamy roasted red pepper hummus.  To save time, I chose to use jarred roasted red peppers but you can certainly roast your own.  And then the two all-important ingredients that take this hummus over the top – cayenne and smoked paprika.  So go grab your food processor and let's get started.  Enjoy!
5 Minute Roasted Red Pepper Hummus
Prep time:
Cook time:
Total time:
Ingredients
¾ cup chopped jarred roasted red peppers, drained and chopped (2 whole red peppers if roasting your own)
1 can (15 ounce) chickpeas, a.k.a. garbanzo beans - drained & rinsed
¼ cup fresh lemon juice, about 1 large lemon
¼ cup tahini
1-1½ garlic cloves, minced
1 teaspoon kosher salt
⅛ teaspoon cayenne pepper
½ teaspoon smoked paprika
2 tablespoons olive oil
Instructions
Place the tahini and lemon juice in the bowl of a food processor and combine for about 1 minute until smooth. Scrape the sides of the bowl then turn on for another 30 seconds. If you don't have a food processor, you can use a heavy-duty blender following the same process.
Add olive oil, garlic, salt, cayenne pepper and smoked paprika. Blend for 30 seconds. Scrape down sides and blend for another 30 seconds.
Add half of the chickpea to the food processor and blend for about 1 minute. Scrape down side of bowl and add the remaining chickpeas. Blend for another 1 minute.
Add the roasted red peppers and combine in food processor for about 2 minutes. If the hummus seems too thick just slowly add 1-2 tablespoons of water until you like the consistency.
Chill for at least 1 hour.
Scrape hummus into a serving bowl and enjoy!
Notes
Hummus can be stored in an air-tight container and kept in the refrigerator for up to 1 week.